Vanessa Collier Storytellers Gig at 443 Social Club
Vanessa Collier stood out during the New York State Blues Festival 2021's comeback at the State Fair last June. She offered Syracuse's most intimate venue, 443 Social Club & Lounge, to a blue note-esque performance on Thursday, December 2. Club owner Julie B Leone told NYS Music it was their fastest selling show in less than 24 hours.
Vanessa Collier gave a two-set performance and an encore to keep everyone happy at 443. Vanessa offers three art classes as she is a saxophonist, singer and songwriter. She concocted saxophone solos at 443 while walking through the crowd. The social club 443 creates an atmosphere a bit like the series of "storytellers" in which many artists have participated. Vanessa shared her various family influences with the crowd on some of the acts. It had Byron Cage of Syracuse on drums and William Gorman on keyboards. Andrew Cane of San Diego on bass and Shamika Copeland guitarist Arthur Neilson of Brooklyn.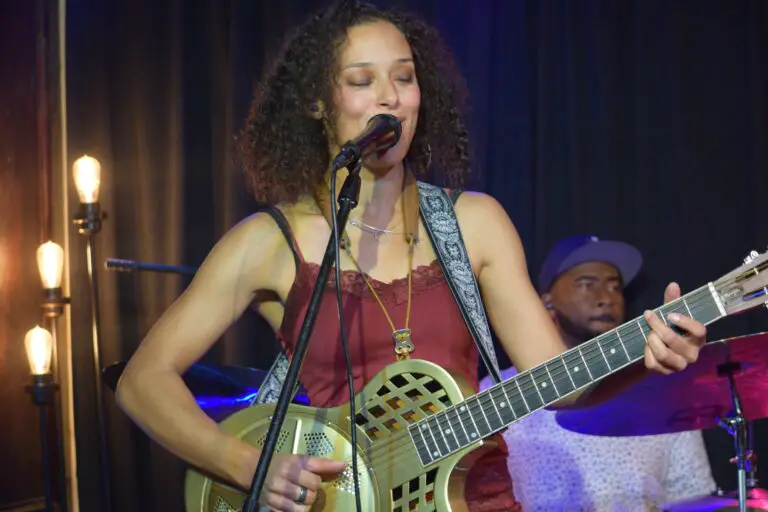 His four album names should help give some insight into the kind of grooves they've created at 443, Soul Heart & Saxophone, Meet my shadow, Honey Up and Heart on the Line. She kept the spontaneity of the vibrant show by switching to steel guitar for a cover of Bonnie Raitt's "Blender Blues".
Vanessa credited stories like Kill a mockingbird and The Greek myth of Icarus to the crowd as a source of inspiration before playing his original "Icarus" on her honey up Album…
It's a song about little Icarus when he just dreams of taking that flight and it's kind of a song for everyone to chase their dreams and never let anyone tell you that you can't do something

Vanessa Collier
Vanessa took some time after the gig to appear at one of the social club's 443 tables for a discussion with NYS Music about the music and its history,
Matthieu Romano: Is there a memory of a show you performed or attended in New York State that stands out as a meaningful experience? JV Collier told me that he used to go to where Jaco Pastorius slept in Central Park for inspiration.
Vanessa Collier: Of course, that's a great question. I remember it was special because it was my very first opening gig for Bruce Katz at the Falcon in Marlboro, New York. The circle is complete. It was the first time I saw his guitarist Chris Vitarello and now I have played with him in my band. So we continue, it's connected.
SIR: He is connected. Bruce Katz was playing with Gregg Allman at our blues festivals like you did this year. I couldn't help but notice a song you played tonight called "If Only". The saxophone solo at the end was also similar in tone to Leroi Moore's. Would you mind talking about this melody?
CV: Of course, my whole thought process behind the new album was to try and write story songs. Some of them are based on real things, some are not. This one is near me. I have had a person in my life who is constantly unhappy and nothing is ever enough you know what I mean? He was inspired by this person and just a reminder to always live fully and live with what you have to find a way to be happy.
SIR: I see exactly what you mean. With this on-the-go lifestyle, all you've got is the moment. Difficult to sacrifice this time to be unhappy.
CV: Amen.
SIR: My third and final question here at 443 is about two books we have in common, Questlove's creative quest and Devil's horn: The saxophone story from loud novelty to king of cool. What do you think of these two good readings?
CV: It's killer. I respect Quest's love and knowledge for music. It's not a surface level thing with him. It's all of life. He knows every groove in every song he's heard. From a DJ's point of view, then from a drummer's point of view, it's awesome. I know I was going to read it again when I get into a new record.
What I like about the Devil's Horn is that I knew less about Adolphe Sax's story. You know he almost died so many times and they murdered his assistant thinking it was him. For me what I loved is that the saxophone has this story of challenge and yet it always brings out something beautiful. I love that the inventor of the sax was like that too. He went through a lot of struggle to create this beautiful instrument.
SIR: I love how the saxophone survived the Vatican when they tried to outlaw it because of its effects. What's the oldest play you've ever played in?
CV: We have performed in many converted churches which are now halls. So these are still great with just the room acoustics alone.
SIR: There's a 150 year old Baptist church turned into a concert hall in Homer, NY, about twenty-five minutes south of here, you should play next door.
CV: Yes please. (laughs)
Gallery by Steve Moore: