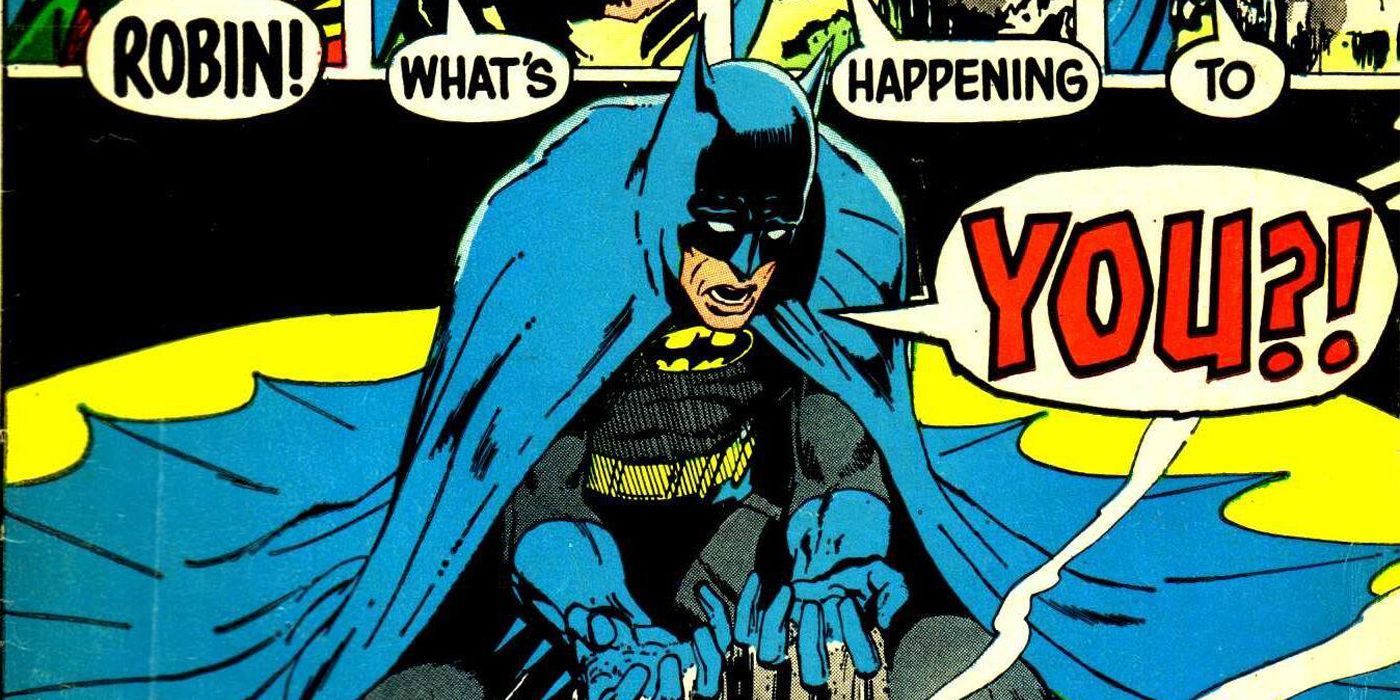 This time Neal Adams went rogue with a rejected Batman story
In the latest Comic Book Legends Revealed, find out how Neal Adams went rogue to get a Batman story rejected by Marv Wolfman and Len Wein published
Welcome to Comic Book Legends Revealed! This is the eight hundred and thirty-seventh episode where we examine three comic book legends and determine if they are true or false. As usual, there will be three posts, one for each of the three captions. This time it's all the legends of Neal Adams! Click here for the first part of this episode's captions. Click here for part two of the captions from this episode.
NOTE: If my twitter page reached 5,000 subscribers, I'll be doing a bonus edition of Comic Book Legends Revealed that week. Good deal, right? So go follow my Twitter page, Brian_Cronin!
COMIC CAPTION:
Neal Adams drew a rejected Batman story by Marv Wolfman and Len Wein in his spare time to try and "force" Batman editor Julius Schwartz to publish it.
STATUS:
True
The late Neal Adams received a number of tributes from all manner of comic book icons upon his tragic passing earlier this week, and one of those icons, Marv Wolfman, shared a touching story of how which Adams managed to help Wolfman when he and his friend and fellow burgeoning comic book writer Len Wein were trying to break into comics at DC in the late 1960s and early 1970s.
RELATED: How Neal Adams almost single-handedly changed the comic book code
I've written before about how Wolfman and Wein had a story for an issue of Teen Titans #20 which would have featured a black superhero who was rejected at the last minute in 1969 and Neal Adams had then stepped in to defend them as well, noting to Jon B. Cooke in TwoMorrows' Comic Book Artist #1, "I was wanted by individuals like the 'defender of the faith' and got the script from a furious Len and Marv with the request to read it and see if there was anything wrong because the management was crazy and they stopped work I read it and felt it went too far in that it offended white people just like people of color had been offended for hundreds of years – that wasn't cool; I could defend it, but not in the face of outright rejection. was comic book media and it was the Teen Titans!… [the story] was just too much! I first offered to edit it to try and save it, but my edit was rejected.
Adams then quickly wrote and drew a new version of the story and it was published. This led Wolfman and Wein to Marvel at the time, but they still wanted to work at DC, even though they had trouble finding work there.
RELATED: Why Neal Adams' Green Lantern/Green Arrow Was Probably A Better Seller Than It Looked
In the end, around the same time, Wolfman and Wein had also tried to sell a script to Julius Schwartz, the publisher of the Batman books. Wolfman explained what happened after Schwartz rejected him: "Neal asked to read the script we wrote and liked it. So much so that he decided he wanted to draw it. be published and he would not be paid. And remember the editor had already rejected it once. And yet, even knowing all of this, as he worked on his normal paid homework, Neal drew the entire script. Free. It took him about a year. "
Wolfman continued: "When it was finished, Neal handed it to Julie who, after reading it, remembered that it was the story we had written a year earlier that he had rejected. And now she was drawn behind her back. Some editors would have rejected it outright because they hadn't officially approved it, but Julie liked the finished work and approved it. Everything he said was, "Don't do that again." Neal had more than all the work he could handle and he certainly didn't have to draw a story for free, but he believed in something and put his money where his mouth was."
The published story appeared in the late 1970s Detective comics #408, with a gripping Adams cover…
Wolfman ended by noting, "In all sorts of ways, this story has ignited our careers. And it only exists because Neal wanted it in print and decided to make sure of it. Rest in peace, Neal, and thanks for everything."
Thanks to Marv for this wonderful story.
DISCOVER A TV LEGEND REVEALED!
In the latest TV Legends Revealed – Find out if Kirk Cameron really had the TV wedding between his Growing Pains character Mike Seaver and Julie McCullough's Julie Costello called off because McCullough appeared on Playboy
MORE LEGENDS!
OK, that's it for this episode!
Thanks to Brandon Hanvey for the Comic Book Legends Revealed logo, which I actually don't even have anymore, but I used it for years and you still see it when you see my old columns, so that's fair enough to thank him again, I think.
Feel free to (hell, please!) write in with your suggestions for future installments! My email address is [email protected] And my Twitter feed is http://twitter.com/brian_cronin, so you can also ask me for captions there! Also, if you have any correction or comment, feel free to email me as well. CBR sometimes emails me with emails they receive about CBLR and that's fair enough, but the fastest way to get a fix is ​​to just email me directly, honestly. Corrections don't bother me. Always better to get things accurate!
This is my most recent book, 100 Things X-Men Fans Should Know And Do Before They Diefrom Triumph Books.
If you want to order a copy, ordering it here gives me a referral fee.
This is my second book, Why does Batman wear shark repellent? The cover is by Kevin Hopgood (the man who designed the War Machine armor).
If you want to order a copy, ordering it here gives me a referral fee.
Here is my comic book legends (130 legends. — half of them are reworked classic legends that I featured on the blog and the other half are legends never published on the blog!).
The cover is by artist Mickey Duzyj. He did a great job on it…
If you want to order it, you can use this code if you want to send me a little referral fee.
Follow Comics Should Be Good On Twitter and on Facebook (feel free to share Comic Book Legends Revealed on our Facebook page, too!). Not only will you receive updates when new blog posts appear on Twitter and Facebook, but you'll also get original content from me!
See you next time!
How the Kung Fu Boom Led to a Famous Superhero Writer's First Legion
Read more
About the Author