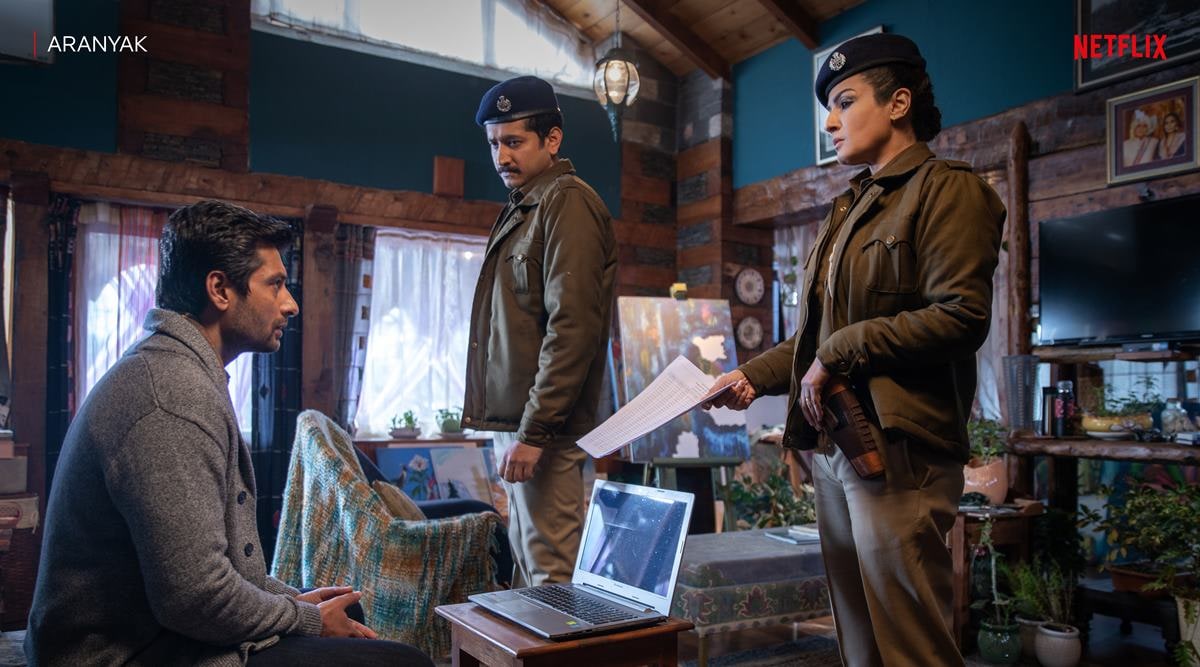 The screenwriter of Aranyak Charudutt Acharya: "In the Web broadcasts, one passes from a shock treatment to a mature management of the subjects"
writer of Netflix series Aranyak, Charudutt Acharya, talks about combining different genres for the series, creating the lead character of a woman who works in a small Indian town and the related language while introducing her to Raveena Tandon.
You got the idea of ​​Aranyak during a visit to Himachal Pradesh. How much has its geography, people and culture contributed to history?
The basic idea for Aranyak came from an interesting meeting with a Himachal Pradesh police officer who had helped my family and I in a mini-crisis while on vacation. The character of SHO Kasturi Dogra is inspired by this officer. During the arduous journey to Rohtang, our young Himachali taxi driver entertained my children, telling them about a mythical humanoid creature that lives on top of the mountains. Later, lying on the lawns of the Hidimba temple, the cop, the creature, and a real-life case involving a foreign tourist (not in Himachal Pradesh) came together in a flash. I wrote a basic outline that very evening.
After working as a TV show writer for over two decades and writing feature films, how was the experience of writing a web series?
In 25 years, I have written for over 20 TV series and four feature films produced. So, I knew these two mediums well. My first webcast was It's not that Simple on VOOT and later 1962-A War in the Hills on Disney + Hotstar. The key to writing a web series is to get the audience to watch a burst season. Using my learnings from my previous projects, I embarked on Aranyak with a certain determination and ambition to give the best of myself. Seeing it come to life has indeed been a rewarding experience.
You have already scripted crime shows. Was this experience helpful to you while writing Aranyak?
I co-wrote Crime Patrol, a popular crime show, for almost 10 years. But it was a docu-fiction show where each case was based on a real police case, and we had the opportunity to read the documents of each case. This exercise allowed me to detail the police procedure and to structure the progress of the investigation over the episodes. But Aranyak is not exactly a crime show. It gave me the opportunity to explore the personal lives of cops. There was also a hint of the supernatural. Combining these three genres has proven to be a challenge and a lot of fun to try.
How are the concerns and grammar of a web series different from those of a TV show?
The grammar of a drama / thriller web series is closer to the weekly TV / TV news / mini-series shows than the daily half-hour soap opera format. In the latter, the unfolding of the story and the development of the characters are done at a rather languid pace, spread over hundreds of episodes. But in a web series, the accelerated pace of storytelling is key, where a season is typically eight episodes. Second, soap operas operate on character familiarity while web series develop on unique / unfamiliar turns that character arcs take. That aside, the web series allows for more subplots and exploration of new worlds. That said, some of the best international shows (such as Downton Abbey, True Detective) that we consume on OTT platforms were originally hour-long TV dramas, which we choose to binge watch.
Did you tweak your script after the main cast was decided?
We had completed the whole writing process before the cast got hooked on the show. But when Raveena (Tandon) and Param (Parambrata Chatterjee) were finally locked down, we as the core team sat down and made some minor changes to the character games and the interaction between them to make things happen. adapt to their personalities and natural strengths. During our tabletop readings, which were mostly online, I kept a straight face but sprang inside as Raveena, Param, and other actors got the subtle subtext of the dialogue and the scenes came to life. By the way, I was a huge fan of Raveena. When we first met, I was silent for a few minutes as I introduced him to the series. I later realized how hard she was working on the show and invested in the story.
Can you shed some light on how you designed the female characters in the show?
As mentioned earlier, the central character, a female SHO, was based on an actual policeman I had met in Himachal Pradesh. What struck me when I first met her was that she was supervising her teenage daughter's schoolwork at the train station. The few hours I spent with her made me want to tell a story with her as the protagonist. She had come the hard way. She had domestic issues as well as gender issues at work. Despite all this, she held the fort. She wanted to see her daughter reach academic and professional heights. A sum total of her grounding, unconventional ways, cultural pride, and strong ethical core helped create Kasturi Dogra (tried on by Tandon) – a working woman in a small town in India, who has so many battles. to claim the professional jackpot.
What about the other female characters?
The other main female character in the story is politician Jagdamba Dhumal (Meghna Malik). I didn't want a typical one-dimensional politician who just happens to be a woman. I wanted a well-educated, articulate, dignified and powerful woman who sincerely wanted to do good to her people, but who had to face the misdeeds of a wayward son and a condescending mentor. When creating this character, I took inspiration from some real-life female politicians and business leaders.
Julie Baptise (Breshna Khan) the 'bad mom' was taken from a real case of a drug addict British mother whose daughter went missing and was later found raped and killed in a popular tourist destination in India. The woman had faced a serious amount of criticism and had remained in my subconscious the longest. Aimee (Anna Ador) was inspired by the real victim in this case and the character of Nutan (Taneesha Joshi) was inspired by the thousands of young girls in a small town with academic and professional ambitions.
What was your process of working with director Vinay Waikul?
My main collaboration was with co-producer, showrunner, longtime partner and friend Rohan Sippy. The scripts were pretty well developed when Vinay arrived. We did a final round of tune-up with Vinay. A brilliant mind that he is, there were some superb suggestions that came from his objective and analytical gaze. We had in-depth discussions of all the main characters, scenes, and plot points before we started locking things down. Vinay did a really good job bringing the script to life, bringing out the best of the cast and every department of directing.
How have video streaming platforms changed the culture of writing, especially when it comes to Hindi shows and movies?
Writing and creating original content, especially for video streaming platforms, has created a new writing system. First, the "writers' room" entity emerged and the focus was on creating detailed "bibles" of a show before jumping into the storylines. The writing process is much more structured. This discipline certainly has an impact on television series and films. It's mostly for the good, I would say. There are, however, pitfalls associated with this "over-writing" and "over-preparing" during the development process. We are witnessing a gradual shift from a "shock value" treatment of swear words, sex and gore in shows to more mature handling of various topics, with greater Indian sensitivity in mind.
The public has the impression that there would be another season of Aranyak.
Yes, there is a second season in sight. We have a roadmap for the next season, and we've already dropped some of the show's clues, which got more defined in the last few minutes of the final episode. Our producers and Netflix have already indicated in the media that the work for the second season has started.
In 2021, films made in other Indian languages ​​surpassed Hindi releases in terms of writing and quality. Is the Hindi entertainment industry lagging behind when it comes to pushing the boundaries?
I wouldn't say that. A few big budget movies that don't perform well are no indicator of lack of experimentation and overshooting. Pandemic times are also exceptional times. There is bound to be a certain amount of churning, introspection, a change in tastes and styles, both among the creators and the audience. I'll just give both parties a little time. Exciting and engaging content will also hit the mark in Hindi.