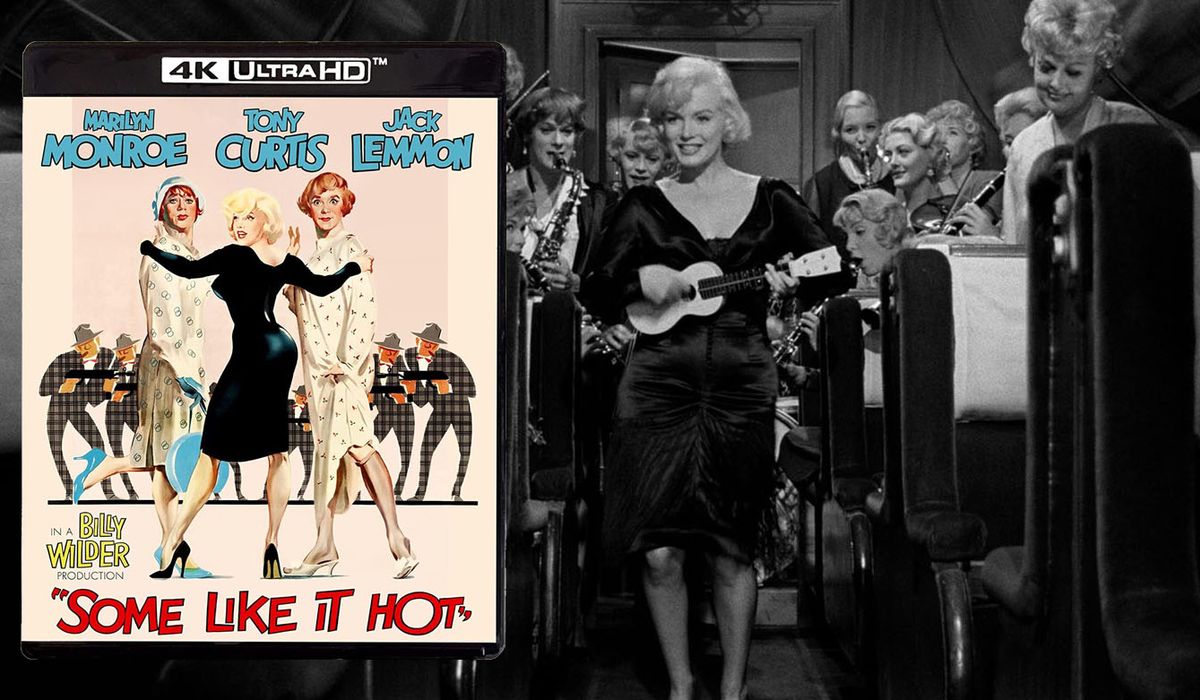 'Some Like It Hot' Movie Review in 4K Ultra HD
Director Billy Wilder's legendary 1959 romantic satire debuts in ultra-high definition format to give viewers an impeccably restored look at what is considered one of the greatest comedies of all time.
Set in the roaring 1920s, Some like it hot (Kino Lorberto note, 1.85:1 aspect ratio120 minutes, $39.95) centers on a pair of financially desperate Chicago speakeasy musicians Jerry (Jack Lemmon) and Joe (Tony Curtis) being unlucky witnesses to the St. Valentine's Day Massacre.
They go on the run by disguising themselves as women Daphne and Josephine and joining a girl group Sweet Sue and her society syncopators. The pair barely dodge a few nasty gangsters and avoid a certain death sentence as they hit the road for an extended gig in Miami.
Life gets complicated as the two end up falling in love with Sugar Kowalczyk (Marilyn Monroe), but Josephine gets the upper hand as a fake Shell Oil millionaire (with a goofy Cary Grant accent to boot) while Daphne gets stuck with rabid suitor Osgood Fielding III (Joe E. Brown).
And then, life gets ugly, as the mobsters unwittingly show up at a Friends of Italian Opera dinner and find their witnesses.
The black-and-white classic is filled with laughs and star power with hilarious moments between Brown and Lemmon and Sugar and Shell Junior and some gangster legends such as George Raft as 'Spats' Colombo'.
However, the film really showcases Marilyn Monroe's magnetism, arguably at its most visually powerful, especially when she sang and danced to songs such as "Running Wild", "I Wanna Be Loved by You" and the sultry heartbreaker "I'm done with love.
4K in action: Kino Lorber uses the film's meticulous digital restoration of the Criterion Collection's 2018 high-definition release to deliver a 2160p masterpiece that delivers exceptional clarity, contrast, and just a pinch of grain, all displayed in a presentation filling the screen.
Visually memorable moments as simple as wet, shiny concrete, Lemmon and Curtis' pale makeup, ultra-white stained gangster spats or Monroe's flawless skin stand out as the restoration also highlights the interiors and ornate exteriors of San Diego's historic Hotel Del Coronado (a replacement for a Miami resort).
Best extras: Kino Lorber's does not disappoint starting with the 4K disc featuring an exclusive new commentary track with film historian and "Billy Wilder: Dancing on the Edge" author, Joseph McBride.
Quickly stating that the film is one of his favorites, he considers it one of the perfect films that exist and a cross between "Scarface" and "Charley's Aunt".
Mr. McBride discusses the film and its background non-stop, always filled with details, anecdotes and nostalgia, including the film's origins; foundry; Monroe's set issues as well as her acting and singing; the brilliance of the script; and Wilder's career and life.
Calling it a feminist film, some of her observations include that Wilder's favorite song was "I'm Through With Love"; and an accountant estimated that Monroe lost 38 hours on set on a 40-day shoot and cost the production an additional $500,000 in delays.
He even reads a letter of protest from the Catholic Legion of Decency which called "Some like it hot" seriously offensive to Catholics and downright dirty.
A second vintage audio commentary, from the 2006 Collector's Edition DVD release, features Paul Diamond (son of IAL film co-writer Diamond) with screenwriting team Lowell Ganz and Babaloo Mandel (known for "A League of Their Own") focused on the storyline, with additional interviews with Curtis and Lemmon cut into the conversation.
A second Blu-ray disc in the set adds a host of extras, including a pair of approximately 45-minute companion vintage featurettes that cover the production, its legacy, and offer extensive interviews with Wilder, Curtis, and Lemmon.
Viewers also see four of Sweet Sue's band members Marian Collier (Olga the clarinetist), Laurie Mitchell (Mary Lou the trumpeter), Sandra Warner (Emily) and Joan Nicholas (Betty the saxophonist) take a 13-minute walk down memory lane. in a vintage segment from 2003.
Next is a 32-minute interview with Curtis by film critic Leonard Maltin that took place at Hollywood's famed Formosa Cafe in 2001. They talk about "Some Like It Hot" as Curtis explains the frustrations of working with Monroe, get the part, look like Grace Kelly and Orry-Kelly's awesome costume design.
Finally, in another pair of archival segments, about 20 minutes in total, German filmmaker Volker Schlondorff interviews Wilder about issues with Monroe (having him say, "It's me, Sugar," took about 60 taken) ; his career; and its methods of working with actors. The acclaimed director/screenwriter even reads pages of dialogue from the "Some Like It Hot" script.