SLAPFACE (2022): A dark, brooding and emotional monster tale – Film Review
Since its inception in 2015, Shudder has amassed an incredible library of original and exclusive horror content. Their latest such acquisition is SLAPFACE (2022), a dark, dark tale of heartbreak, loss, and dysfunction that will soon debut on AMC Networks' horror streaming service. The folks at Shudder were kind enough to give us a sneak peek at their latest original film ahead of the February premiere. Early reviews have been very positive, and the film recently won the "Best Audience Award" for "Best Horror/Thriller/Sci-Fi Film" at the Cinequest Film Festival in 2021. So how does the film compare- does it to other Shudder originals like SLAXX (read our review here) and HOST (read our review here)?
Watch the trailer below, then read on for our spoiler-free review!
SLAPFACE (2022) Summary
After the death of his mother, Lucas, a loner who lives in a dilapidated house with his brother Tom, regularly seeks solace in the nearby woods. With his only "friends" being a group of bullying women, he stays alone most of the time. But, after a strange encounter with an inhuman monster, Lucas begins to withdraw from others. When the two come to a tentative trust, a bizarre friendship is born and Lucas is drawn into a series of primitive adventures.
Jeremiah Kipp directed the film, which is based on his short film of the same title. It stars August Maturo (the nun), Mike Manning (Teen Wolf), Dan Hedaya (The usual suspects), Mirabelle Lee (Blood relationship), Lukas Hassel and Libe Barer (Sneaky Pete).
Here is a preview of the official poster!
Real life horrors
slapface is, at its heart, a monster movie, but before we can talk about "The Virago Witch," we need to talk about the movie's biggest monster: real-life struggles. The film tells the story of two brothers who tragically lost their parents in a car accident. Now all they have is each other. The older boy, Tom (Mike Manning), is a blue-collar man in his twenties who suddenly finds himself a caregiver and breadwinner for his younger brother, Lucas (August Maturo). As you might expect, with childhood trauma comes dysfunction.
The town sheriff (Dan Hedaya), a friend of the family, sees Lucas as a troublemaker walking down the wrong path. Tom's girlfriend Anna (Libe Barer) agrees and is deeply concerned about the dysfunctional family. Lucas is involved with a gang of female bullies and the sheriff is constantly picking him up and bringing him home from places he shouldn't be. Lucas is often away all day and often spends his time alone in a creepy, abandoned hospital.
The boys' only outlet (apart from Tom's drinking) is "Slapface", a violent game they play which involves sitting on a bed, face to face and taking turns slapping each other. Tom says it's to take care of their shit. To take away the pain. As is the case with so many struggling kids (and adults), sometimes you have to feel something just to prove you still can.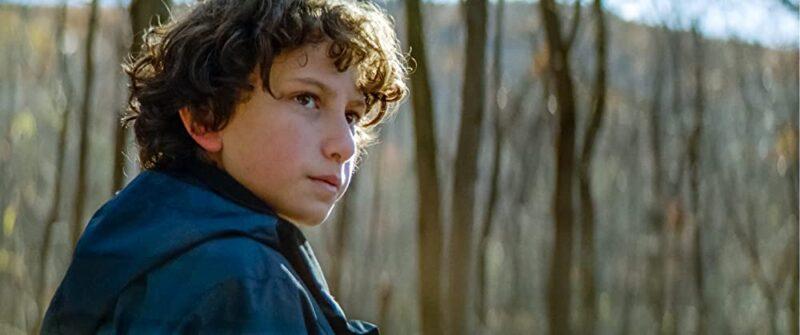 The "other" monster
As if real life wasn't scary enough for Tom and Lucas, there's The Virago Witch case. It is a legendary local "ten-foot-tall" creature whose origin dates back at least to the sheriff's childhood. Lucas encounters the monster and soon finds his life intertwined with his. Exactly what a troublemaking young boy needs, isn't he?
Lucas' relationship with the monster (played by Lukas Hassel) is as complicated as all the other relationships in the film: his violent but loving relationship with his brother, his frantic pursuit of one of his bullies (Mirabelle Lee), who is sometimes his friend, and his budding relationship with Tom's girlfriend, Anna. This film is, at its heart, all about complicated relationships.
Things quickly spiral out of control for Lucas and Tom and everyone they come into contact with. Is the witch good or bad? Is she malicious or trying to help? It's not for me to say here, but suffice it to say that the complicated and emotional journey for this boy and this monster is a journey worth taking.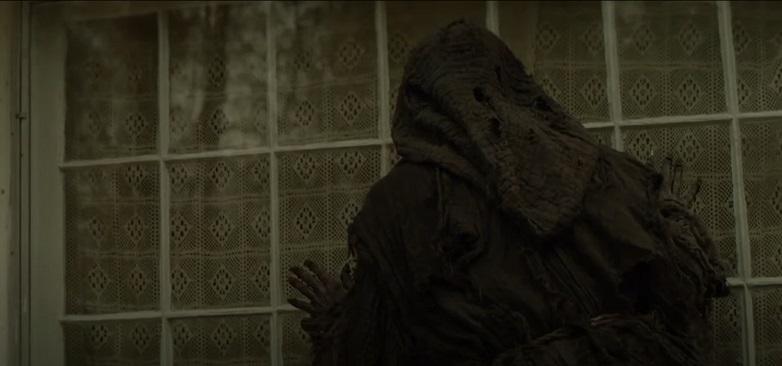 So what's the verdict?
slapface (2022) is a gripping and moving film driven by stellar performances from Mike Manning and August Maturo. The entire cast is wonderful, but the boys, in particular, are next level. You will really care about these characters. You will feel their angst and it will resonate with you long after the credits roll.
There's a creepy, atmospheric dread that pervades the film, which is a product of its beautiful cinematography and production design coupled with Barry J. Neely's subtle and haunting score. I enjoyed every minute of this movie, and I think you will too.
The thrill has struck again! slapface will make a fine addition to their burgeoning library of horror originals and exclusives. Be sure to catch it when it premieres on February 3, 2022. Don't have Shudder? Sign up for a free trial at www.shudder.com.