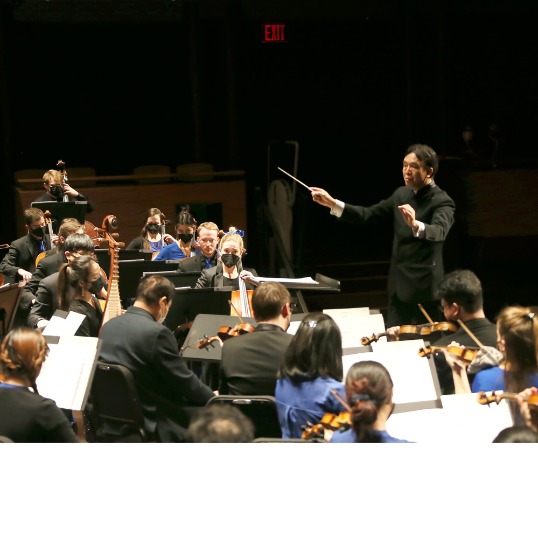 Orchestras must deepen Chinese music
As an active conductor and founding director of the US-China Music Institute at the Bard College Conservatory of Music in New York, my mission is to promote Chinese music to audiences outside China and to bring cultures together. Chinese and Western through our public performances and educational programs.
Every year since 2019, I have led The Orchestra Now to present a Chinese New Year concert in New York City and Bard College's Fisher Center for Performing Arts to provide American audiences with an authentic Chinese New Year musical experience. I design each year's program to show the diversity, richness and artistry of Chinese music to Western audiences, who generally know very little about Chinese classical music, whether traditional or from the vibrant contemporary scene.
Of course, there are many concerts celebrating Chinese New Year in the West, and that's great. But what is a Chinese New Year concert for? I hope it can be more than just an annual awareness event and part of an ongoing exploration of Chinese civilization through music.
I've seen so many New Year's concerts that just happen Spring Festival Opening, or mixing a few Chinese pieces into a Western classical repertoire, but that's little more than a gesture towards Chinese music. If an orchestra really wants to take the opportunity to explore Chinese music, it should delve into the development of classical music in China today, not play the same pieces every year or add a few more Chinese faces on stage.
Does a Chinese performer make the concert more "Chinese" in the current climate of classical music, where Chinese performers are so prevalent and so widely known? I don't think so, and I expect Western audiences either.
A Chinese New Year concert should be an opportunity for an orchestra to expand its territory and seek new repertoire. Over the past 20 or 30 years, China has produced some of the best composers in the contemporary musical world. When we talk about new composers and new compositions, Chinese composers are no longer in the background. They know how to write and they produce some of the most exciting works in classical music today.
I've done quite a few Chinese New Year concerts with professional, conservatory and even youth orchestras. I always focus on deep exploration of the culture and civilization behind the music. Every piece of music has a story behind it. A conductor must put together a program that reflects their vision and the culture behind it – to tell a story. You want the audience to be engaged with the true meaning of the music you present. A good Chinese orchestral music program is just as unique and should be designed with as much care as a Western classical music program.
The US-China Music Institute aims to play a leading role in making Chinese music more accessible and easier to find, and therefore more easily performed in the West. That's why a Chinese music database is indispensable, and it's a major project we're working on at the US-China Music Institute. This will require significant collaboration with orchestras, composers and publishers from East and West.
There are Chinese instrumentalists, soloists, composers and teachers everywhere, and we can easily contact them for advice. It's much easier to imagine a solution in the age of the Internet, but work remains to be done. For example, scores and parts of Chinese orchestral music should be translated and produced on a regular basis and incorporated with recording references.
As China has grown into an economic powerhouse, Chinese arts and culture have also become more viable and can and should be more visible and accessible.
It's very encouraging that people want to explore the music of China, and there are more orchestras in the West giving concerts for Chinese New Year. But we have to do it right and genuinely respect Chinese culture and the immense musical talent of Chinese and, more broadly, Asian composers and musicians, not only in the West but around the world.
Jindong Cai is a Chinese conductor in the United States, professor of music and arts, and founding director of the US-China Music Institute at Bard College Conservatory of Music.