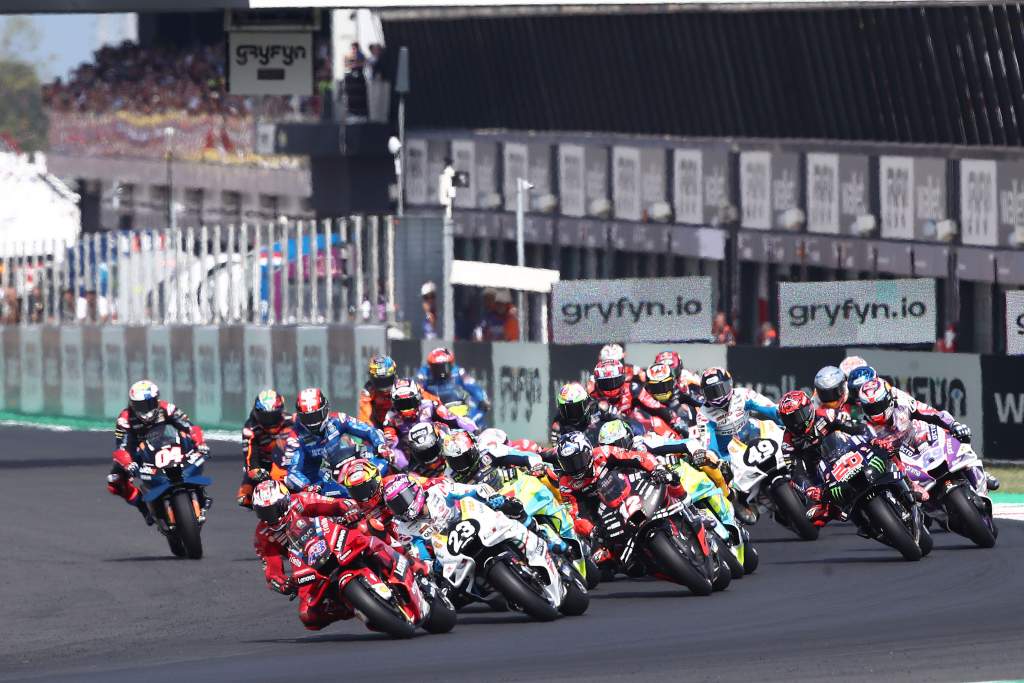 MotoGP presents full 2023 weekend calendar with new sprints
MotoGP chief Carlos Ezpeleta has outlined the new format for race weekends in 2023, following the announcement that sprint races will be added to every round next year.
The added racing action – and a renewed focus on fan entertainment – will see a revamped Saturday schedule and a compressed Sunday, as the Moto2 and Moto3 classes lose their warm-up sessions to make way for a new fan show first class.
---
2023 MotoGP weekend program
Friday
9h00-9h30 Moto3 practice 1
9:50 a.m. – 10:30 a.m. Moto2 practice 1
10.45am-11.30am MotoGP 1 practice
1:15 p.m.-1:50 p.m. Moto3 practice 2
2:05 p.m.-2:45 p.m. Moto2 practice 2
3:00 p.m.-4:00 p.m. MotoGP 2 practice
Saturday
8:40 a.m. – 9:10 a.m. Moto3 practice 3
9.25am-9.55am Moto2 practice 3
10.10am-10.40am MotoGP 3 practice
10h50-11h05 MotoGP 1 qualifying
11.15am-11.30am MotoGP 2 qualifying
12:55 p.m.-1:10 p.m. Moto3 Qualifying 1
1:20-1:35 p.m. Moto3 Qualifying 2
1:50 p.m.-2:05 p.m. Moto2 Qualifying 1
2.15pm-2.30pm Moto2 qualifying 2
3:00 p.m. MotoGP sprint race
Sunday
9:40-9:50 MotoGP warm-up
10h00-10h30 MotoGP 'Rider Fan Show'
11:00 a.m. Moto3 race
12:15 Moto2 race
2:00 p.m. MotoGP race
---
The first impact of the new schedule will be felt on Friday, where practice sessions will lose their 'free' tag to mean they will now be the weekend's only two chances to qualify directly for Q2 on Saturday morning. The MotoGP riders will also gain more time for their second outing to make up for the loss of a test on Saturday.
Free practice will return the next day, however, with a single pre-qualifying session to replace what was previously known as FP4, normally used by teams to focus on race setup – albeit practicality of that is uncertain now that it will happen at a very different time of day to the sprint and the main race.
MotoGP qualifying will begin directly afterwards, with a scheduled start time of 1050 local time, which will then be followed by respective Moto3 and Moto2 qualifying sessions. This builds up to a scheduled start of 1500 for the sprint race which, as previously announced, will be half the distance of the Sunday race (rounded down in case of an odd number of laps) and for reduced points, with only the front nine scoring and a 12-9-7-6-5-4-3-2-1 allowance.
An important confirmation was also that the new races will be limited to just 12 liters of fuel, designed to prevent factories with more horsepower (like Ducati) from dramatically increasing what is available to riders rather than limiting it for save fuel. It's not yet clear whether this will be managed with smaller fuel tanks or some way to control how much is added to current tanks – but it's believed a number of teams are against the first idea on cost grounds. .
Although the sprint races are scheduled for Saturday, it is arguably Sunday that will see the biggest shake-up to the calendar. The MotoGP warm-up will be halved from 20 minutes, and Moto2 and Moto3 will lose their sessions, with the decision rooted in a dual motive of creating time for both a fan show and the support races to follow .
The plan is that MotoGP, now scheduled for a start at 2:00 p.m. local time every weekend, will always be the last race of the weekend, with all the supporting classes (such as the Red Bull Rookies or the various championships of the Talent Cup) falling within the time previously used for Moto2 and Moto3 WUP.
Details of the new fan show format have yet to be decided by series bosses, but it appears to be based on highly successful paddock show promoter Dorna who currently races in World Superbikes.
By setting aside 30 minutes (and hinting that rider attendance will be made mandatory), it will give fans a chance at the track to engage with the riders – but can also have added value for TV broadcasters, according to the final format.
Thank you for your opinion!
What did you think of this story?