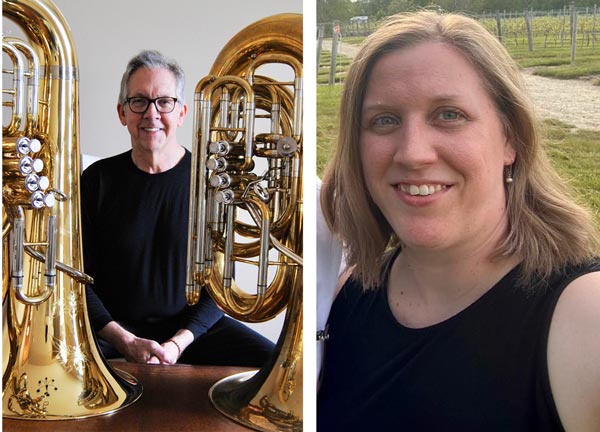 Maurice River Music Salon concerts return for the 14th season on November 7
NEW | CHARACTERISTICS | OVERVIEW | EVENTS
originally published: 10/23/2021
(MAURICETOWN, NJ) – Maurice River music The salon concert series will return for its 14th salon concert season with the first salon concerts by tubist Scott Mendoker and pianist Elisabeth Tomczyk on Sunday, November 7 at 2:30 p.m. at a residence in the Mauricetown area, NJ.
Their program will include that of David Uber Legend of the purple hills and that of David Sampson Line of sight, both written for Mendoker; John stevens Autumn; that of Barbara York Snapshots, with poems by Steven A. Ridpath; the Sonatina by Halsey Stevens; Jan Sandstrom Sing to Lotta; Steven Heitzer's Suite for Tuba and Piano; and Over the Rainbow by Harold Arlen, arranged by Heitzer.
Scott Mendoker has given recitals and masterclasses in Japan, Taiwan, South Africa, Bolivia and across the United States. Highlights include the world premieres of Bezoar's concerto by Vern Miller, Jr. with the United States Army Band, "Pershing's Own", Serenata for Solo Tuba and Wind Ensemble by David Sampson at Carnegie Hall with the Rutgers Wind Ensemble and, again, with the United States Air Force Academy Band in Denver and Heavy weather for Solo Tuba and Wind Ensemble by Jess Langston Turner at the Hartt School, University of Hartford.
He also recorded Heavy weather with the Hartt Wind Ensemble for the Naxos label. Other recordings include Kansas City Dances, a tuba concerto by David Holsinger with the Rutgers University Wind Ensemble, and works by Eddie Sauter, and other works by Sampson on the Mark, Summit Records and Naxos labels
Mendoker has performed with the Chicago Symphony Orchestra, New York Philharmonic, Metropolitan Opera Orchestra, New Jersey Symphony, American Symphony Orchestra, Orchester symphonique de Montréal, and Bavarian Radio Symphony Orchestra. From 1979 to 1982 he was principal tuba of the National Symphony Orchestra of the South African Broadcasting Corporation (SABC)
Advertise with New Jersey Stage for $ 50 to $ 100 per month, click here for more information
---
He was a longtime student of the late Arnold Jacobs, widely regarded as one of the greatest brass teachers of the 20th century and solo tuba of the Chicago Symphony Orchestra for more than 44 years. He also studied with Warren Deck, retired solo tuba from the New York Philharmonic. Mendoker alumni hold positions at many well-respected colleges and universities, several major orchestras in the United States and abroad, as well as some of our country's top military orchestras.
Prior to joining the Hartt School at the University of Hartford, Connecticut, he was a faculty member at the Mason Gross School of the Arts at Rutgers University for 21 years. He is a member of the award-winning brass quintet, Philadelphia Brass, and is a sponsor artist of Eastman Tubas.
Elisabeth Tomczyk is a sought-after collaborator and chamber musician based in Vernon, Connecticut. A native of Wisconsin, she began her piano studies at the age of three and was accompanying choirs and instruments at the age of nine. Currently a staff member of the Hartt School, she performs in over 100 concerts a year with students, faculty and guest artists. She is also a strong supporter of contemporary music, creating and recording many new works.
She performs regularly with the Hartford Independent Chamber Orchestra (HICO) and has given concerts across the United States and Europe, including New York, Boston, St. Louis, Washington DC, Vienna and Reykjavik.
Tomczyk holds a Masters of Music in Piano Performance from the Hartt School, after studying with Dr David Westfall, and a Bachelor of Music in Piano from Webster University, after studying with Daniel Schene. She is also an avid seamstress and bag designer, running a small business on Etsy.
Future concerts at the Maurice River Music Show will include a return appearance by pianist Clipper Erickson on January 9, 2022, return appearances by flautist Janet Somers and pianist Norma Meyer on January 30, the Lyra Flute Quartet on February 20, and La Bernardinia Baroque Ensemble: Rainer Beckmann (recorders), Donna Fournier (viola da gamba) and Marcia Kravis (harpsichord) on March 27. All concerts will take place at 2:30 p.m.
The number of places is limited to 20 people, so a quick reservation is required. Donations to help cover expenses will be accepted. It is expected that those present will be fully vaccinated and that those present should wear masks. To reserve seats, get directions, or receive more information about the series, please call Maurice River Music at 856-506-0580, email them at [email protected], or visit their website at www.mauricerivermusic.com.
For those who do not wish to attend in person, a video recording of the concert will be emailed to those who send a check in the amount of their choice and made payable to the artist, with a deadline for arrival. the Friday before the concert. Checks should be sent to Maurice River Music, PO Box 133, Mauricetown, NJ, 08322. Please include your email address and phone number on the check.