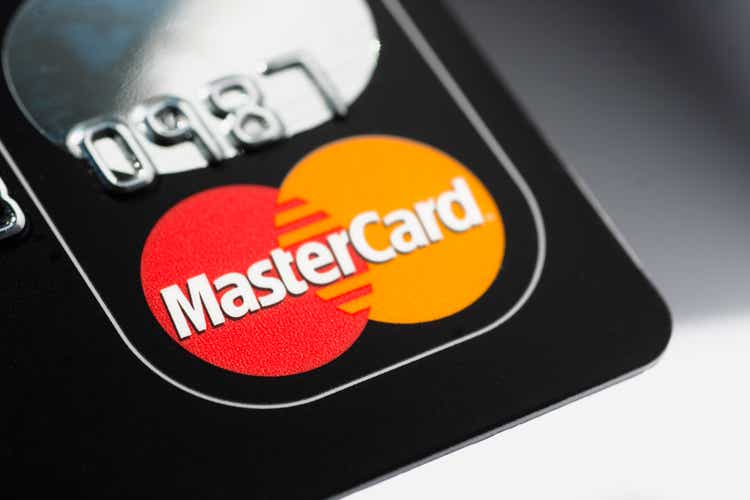 MasterCard Stock: A Still Undervalued Growth Story (NYSE: MA)
It's not easy to find great growth stories. Most companies struggle to sustain double-digit growth rates over the long term, and the larger the companies, the more difficult profit and revenue growth often becomes.
One of the best market growth stories over the past 7 years has been the story of Mastercard (MA).
Mastercard, a well-known brand with a fairly simple business model, went public at $39 per share in 2006. Today, shares of the leading card provider are trading at nearly $340 per share.
Mastercard has been one of Wall Street's big growth stories for more than a decade, and analysts have consistently undervalued the company and disliked the strength of this industry leader's business model. The three things in particular that make Mastercard special are the company's growth rate, the company's margins, and the company's balance sheet. Mastercard and Visa (V) also continue to face no major competition in significant parts of the US market.
Mastercard has weathered the pandemic well, and the company's recent earnings report and guidance were very strong. The company reported GAAP earnings of $2.41 per share, beating analysts' expectations of twenty cents. This is the fourth time in the past year that Mastercard has exceeded earnings expectations.
What was most impressive about Mastercard's fourth quarter earnings was that the company posted impressive growth even compared to 2019, before the pandemic. Mastercard reported fourth-quarter net revenue up 19% from 2019. Specifically, the company reported domestic valuations up 24% and cross-border volume fees up 61%.
This earnings report also came ahead of the recent easing of Covid restrictions that we have seen in Europe and the US. China has also failed to lift many of its Covid restrictions under that country's zero-tolerance policy, and Asian revenues have predictably fallen.
Even with travel and spending still down due to Covid and Covid-related restrictions, Mastercard saw strong growth in revenue and earnings compared to pre-pandemic levels. The company's margins have held up very well despite wage inflation and rising costs as well. Operating expenses rose only 12% excluding acquisition costs, and most of the increased expenses were investments in new staff for the company's new growth initiatives. These initiatives include partnerships with Equifax (NYSE: EFX) and ZIP, a new B2B platform called the CPC Sandbox Test Platform, and the company's continued efforts to build on the Ethoca platform. Management has also indicated that it expects growth rates to be at the upper end of the ranges discussed previously. More importantly, management again stated that they believed the goal of maintaining a 50% profit margin would be successful.
The stock doesn't look expensive either when looking at the price-to-earnings growth ratio. Even though Mastercard is trading at nearly 35 times next year's earnings estimates, those estimates are likely to continue to rise. The key metric that shows Mastercard shares are likely undervalued is the price-to-earnings growth ratio, or PEG. It's just 1.62, and anything below 2 is usually cheap. Mastercard has been able to maintain a growth rate of 20% or more consistently for over a decade. Mastercard and Visa face no major competition in many of the markets in which these companies compete, and Mastercard's operating margin is 54%, profit margin 46%, and return on assets nearly 20%. %.
Mastercard also benefits from market downtime due to the company's strong balance sheet. Despite having a market capitalization of $360 billion, this company only has $14 billion in debt and its annual free cash flow is $8 billion. While consumer and business transactions obviously drop during down periods in market cycles, Mastercard's strong balance sheet allows the company to buy back stock and acquire other companies during down times. of unavailability. Mastercard benefits long-term from economic cycles as the company's outstanding balance sheet allows management to buy companies and repurchase stock during downtimes, something the company has done most recently during the pandemic. .
Given Mastercard's unique business model, strong growth and very strong balance sheet, a company with nearly 50% operating margins that has shown that 20% growth is sustainable should trade at higher 30 times next year's earnings estimate of $13 per share, or about $420 per share.
It is often tempting to take profits as companies get bigger and growing becomes more difficult. Yet some of the best investments in the market like Apple (NASDAQ:AAPL) and Amazon (NASDAQ:AMZN) rose again significantly after reaching market capitalizations of over $300 billion. Even though Mastercard is a much bigger company than when it went public in 2006, there is no sign that the company's impressive growth is slowing down. Consumer spending will always be cyclical, but Mastercard's strong balance sheet should continue to allow the company to take advantage of down cycles in several ways.