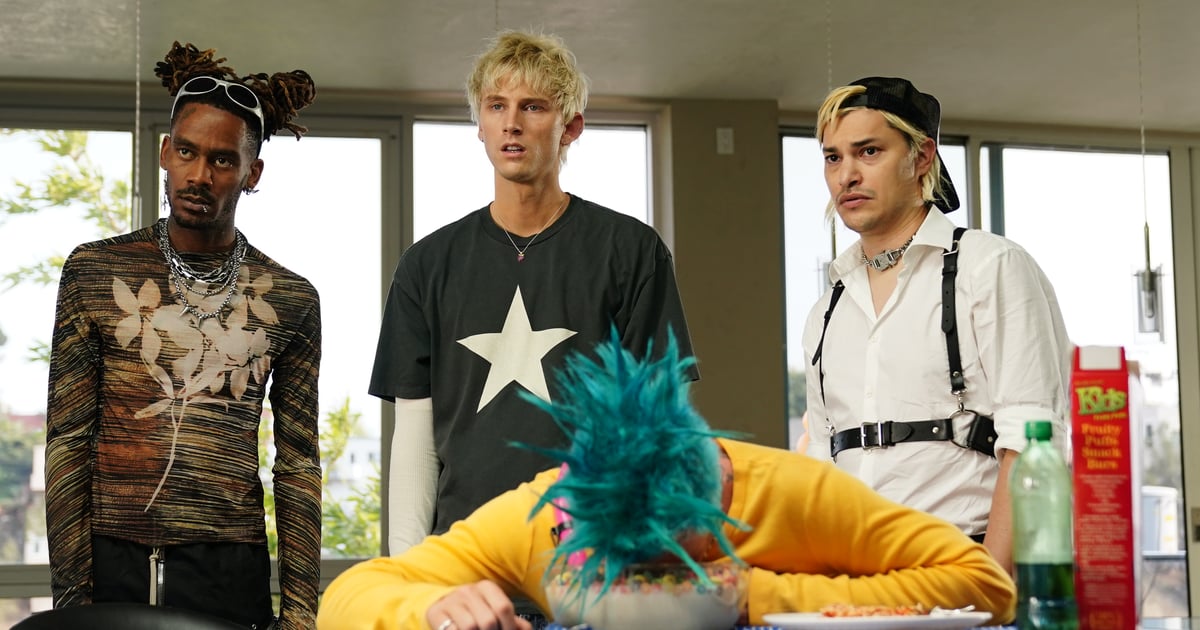 Machine Gun Kelly and Mod Sun discuss their movie Good Mourning
Machine Gun Kelly (née Colson Baker) and Mod Sun are making their writing and directing debuts with their upcoming stoner comedy, "Good Mourning." The film follows MGK movie star London as he receives a breakup text from his girlfriend, April (Becky G), on the very day he is due to have the most important meeting of his career.
"The concept came to us via the universe giving me the exact situation that London encounters in the film, which is [getting] a text that it reads as a break text, then [proceeding] to get relationship advice from all the friends who aren't in a relationship, which then leads him down a spiraling road of confusion," Kelly told POPSUGAR. "It's a real situation that happened. I asked Mod if he wanted to write a movie because I couldn't think of another way to express my own spiral."
According to Sun, the film also has to do with "the whole ideology of choosing between love and your career" and deciding what is ultimately more important. "I think Kells and I are both so work-oriented, [but] we also realize that at the end of the day, love is probably the most important thing to us."
Their collaboration, of course, comes as no surprise, considering the two are real-life friends and have worked on music together before. However, Sun says working on a movie together felt a lot more serious. "It felt like this different landscape just allowed us to flex a different muscle. It was really fun because it felt like a job," he explains. "Also, getting your art into the hands of other people was nice. It was a nice change of scenery. When you create your own art, you are responsible for it. Giving it to someone else is such a journey – writing a line and hearing someone else recite it, that was a whole different kind of journey."
In addition to providing laughs, "Good Mourning" is full of celebrity appearances. From Dove Cameron and Pete Davidson to Megan Fox and Whitney Cummings, it seems like just about everyone you can think of is there. "We had a casting director and a lot of love for that person, but pretty much every single person was chosen through a phone call that either me or Kells made. We pitched the movie to them and we practically wrote the role with these people in mind," Sun reveals. According to MGK, the only casting decision that was made was Cummings' role as London agent Maxine. "She's the only person we haven't spoken to directly…her and Dennis Rodman, the two mystery players who ended up coming in and slam-dunking when playtime started."
In the movie, there's a scene where London and her friends smoke a bunch of weed to try to stop her from making things worse with April. Apparently things got so intense that filming for this specific scene had to be split into two days. "We were like, 'This is a stoner movie, so the smoke [has] must have been epic," Kelly says. "We were smoking once, and they were convinced they had turned off all the sprinklers in the house, but there was one left that they didn't turn off. The fire alarm went off, and this thing rained on all the cameras and lights and everything."
Similar to "Pineapple Express," "Good Mourning" is just a hilarious, lighthearted movie to enjoy and laugh with. Sun and MGK were "sick and tired of old school Hollywood trying to relate to the next generation with forced jokes and forced dialogue", which is how the comedy was born. "We're just missing the laughs," Kelly adds. "We have to laugh again and laugh at something that's not like, 'I need five degrees to figure out what the joke is.'"
"Good Mourning" premieres in theaters and on TVOD on May 20.