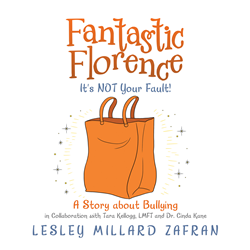 'Fantastic Florence' Children's Book Series Launches New Story About Bullying
Bullying affects all young people, including those who are bullied, those who bully others and those who witness it…

MIAMI (PRWEB)
February 28, 2022
Children's author Lesley Millard Zafran, along with expert contributors Tara Kellogg, LMFT, and Dr. Cinda Kane, announced the latest episode of their "Fantastic Florence It's Not Your Fault!" series of books, featuring stories for children going through different traumatic experiences.
"Bullying affects all young people, including those who are bullied, those who bully others and those who witness it," commented trauma specialist Tara Kellogg.
"We are thrilled to introduce Florence to the children," added Zafran. "They're going to love her magical powers and insights as she helps the heroine deal with a situation they've all seen or faced themselves."
This latest installment in the "Fantastic Florence" series provides parents, caregivers, teachers and mental health professionals with a tool to engage in conversations with children and help them identify and process their experiences. Florence validates children's feelings and offers easy-to-understand strategies by posting messages to comfort and reassure them. She suggests ways to handle difficult situations and always encourages children to confide in a trusted adult.
"We want our stories to open the door to the difficult conversations children need to have to begin the healing process," said Dr. Cinda Kane. "We all share a lifelong commitment to helping children thrive."
"Fantastic Florence it's not your fault!"

By Lesley Millard Zafran with Tara Kellogg, LMFT, and Dr Cinda Kane

ISBN: 978-1-6655-3969-2

Available at AuthorHouse Online Bookstore, Amazon and Barnes & Noble
About the authors

Lesley Millard Zafran began writing stories and poetry as a young girl, growing up in London, UK and Miami, Florida. Her passion led her to a career in educational publishing and a BA in English Literature from the University of London. She has worked as a consultant for schools and non-profit organizations for over 20 years. As a mother of two who struggled throughout her own childhood, Zafran believes every child needs love, support and encouragement to feel brave and confident. Thus, she created the Florence series. She is also the author of "Fantastic Florence It's Not Your Fault!: Her Adventures Begin…" and "Fantastic Florence It's Not Your Fault!: A Story about Abandonment".
To learn more about the author or this series, please visit: https://www.authorhouse.com/en/bookstore/bookdetails/816761-fantastic-florence-its-not-your-fault-a-story-about -bullying.
Tara Kellogg, LMFT, is a licensed psychotherapist with over 25 years of clinical experience. She earned her bachelor's degree from Castleton State University, Vermont, and her master's degree in marriage and family therapy from Nova Southeastern University, Florida. Kellogg specializes in individual and family counselling, focusing on family preservation and trauma-related disorders. She is a Nationally Certified Therapist for Trauma-Focused Cognitive Behavioral Therapy (TFCBT) and a Florida State Qualified Supervisor.
Dr. Cinda Kane received her bachelor's degree in journalism from Penn State University, a master's degree in education and curricula from Castleton State University, Vermont, and a doctorate from Nova Southeastern University, Florida, in educational administration. superior. She has worked in public education for more than 27 years and is Dean of Students at College Academy at Broward College, Davie, Florida. She is the author, co-author and editor of several professional articles and scholarly books.
###
General Information:

LAVIDGE

Lindsey Gobel

317.435.2116

[email protected]
Share the article on social networks or by e-mail: