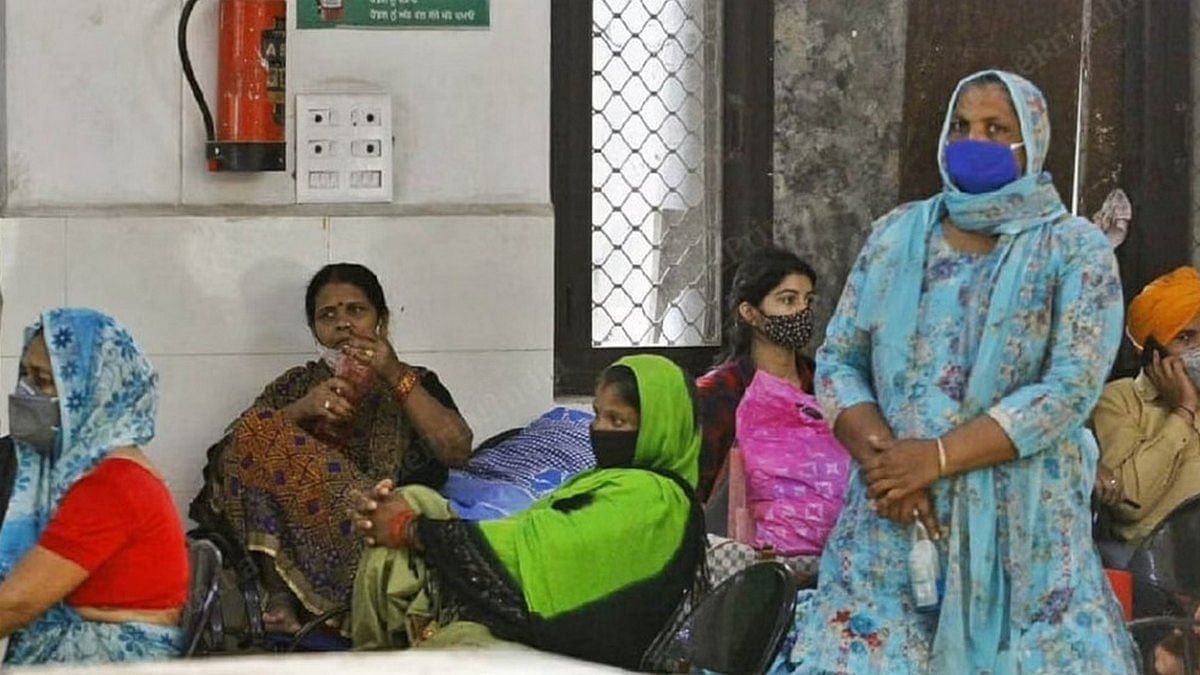 Data shows Indian women have less access to heart and transplant surgeries
New Delhi: There are many things that women in India are deprived of just because of their gender. One of them, it seems, according to data from some leading hospitals, is equitable access to life-saving surgeries.
ThePrint accessed data from some of these hospitals for three major surgical specialties that come with very high operating/rehabilitation costs – cardiothoracic, organ transplantation and orthopedic surgery.
The data show that there is a significant gender imbalance in favor of men in two specialties: cardiothoracic surgeries and transplants. This is even when, according to doctors, the likelihood of a man or a woman needing these surgeries is comparable.
However, the numbers appear to be slightly less skewed the further south one moves, with doctors saying the gender gap in surgeries is a reflection of social realities, which can vary in different parts of the country.
Overall, there is another trend: organ donors are predominantly women. For example, a representative from Max Super Specialty Hospital Saket in Delhi told ThePrint that seven out of 10 donors are female, while a spokesperson from BLK-Max Super Specialty Hospital put the female to male ratio at 90: 10.
The third specialty, orthopedic surgery, has a reverse bias because the incidence of osteoporosis in women is higher. The onset of the disease, too, usually occurs earlier in women, resulting in the need for joint replacement surgeries.
Regarding the gender disparity in cardiothoracic and transplant surgeries, medical experts point to certain social factors.
"There is a bias, but you have to accept the social and economic realities without being cynical about them. The hard truth is that these surgeries cost money and not everyone has health insurance. Thus, the breadwinner always takes priority," said Dr. Harsha Jauhari, Organ Transplant Advisor at the National Organ and Tissue Transplantation Organization (NOTTO) and Senior Kidney Transplant Consultant at the Sir Ganga Ram Hospital in Delhi.
He added that when it comes to donors too, it is usually female relatives who come forward. "For various reasons, it is usually the woman who is the donor. The number of husbands showing up to donate used to be gross, but now it's gotten a little more respectable.
There has also been an improvement over time in the ratio of women undergoing surgery, according to Dr Jauhari, who credited the advent of the NGO sector willing to fund complex surgeries, easier access to assistance under the Prime Minister's National Relief Fund and improved health insurance coverage.
"Previously, about 10% of organ recipients were women. That number is now around 20-25%," he said.
---
Read also: Dedicated teams, cost, facilities – why pvt hospitals perform over 75% of organ transplants in India
---
Large gender disparities in surgeries
According to a spokesperson for Max Saket, 80% of all organ transplants there are performed on men. However, in 70% of these surgeries, the donor is a woman.
"Even the 20% of women who undergo a transplant will have a donor," the hospital representative said, not wanting to be named. For heart surgeries, the ratio of in-hospital surgeries is 65:35 in favor of men, although there is no difference in the incidence of heart disease.
Max Saket's representative said that for joint and hip replacement surgeries, the ratio is reversed, at 60:40 (female to male). "It's because women have more orthopedic problems."
At BLK Max Hospital, the statistics follow the same broad trends.
"Organ transplants are done in a 70:30 ratio for males and females and the donation ratio is 10:90. In the 30% of cases where women are the recipients, in most cases the donor is also a woman. The ratio of joint and hip replacement surgery is 65 (women): 35 (men)," a hospital spokesperson said.
For every three heart surgeries performed in the hospital, two are performed on a man. "Women have equal or more complex heart problems, but the numbers are stacked unevenly. Also, due to their smaller caliber arteries, their heart surgeries often tend to become more complex," the spokesperson added.
Data from Indraprastha Apollo Hospitals, Delhi in the last fiscal year shows that out of the total number of cardiovascular surgeries performed at the hospital, 66% were for men and 34% for women.
Among those who underwent a kidney transplant, 76% were men and 23% women. For liver transplants performed during this period, 62% involved men and 38% women.
Here too, orthopedic surgeries presented a different picture. Of all knee replacement surgeries, 25% were performed on men and 75% on women. For hip replacement surgeries, 58% were performed on men and 42% on women.
Another exception tends to be transplant surgery involving cadaver donations, where the gender bias is not very pronounced.
Dr. Kunal Sarkar, Chief Cardiac Surgeon and Senior Vice President at Medica Superspecialty Hospital in Kolkata, told ThePrint that out of 250 heart transplants that took place there, the gender split is around 65:55 in favor of men.
Unlike liver and kidney transplants, where most transplants involve living donors, heart transplants exclusively involve cadavers.
"Difference in mental configuration"
Asked about the gender differences in surgery, Dr. Vanita Arora, a consultant cardiologist at Apollo, told ThePrint she attributes it in part to "women's mental setup" and how they view their own health. .
She explained that while there are some heart diseases with a higher incidence in men, there are others that occur more in women.
"But in my own practice, I see every day that if I ask a man to do a procedure, nine out of 10 will come back for it. There's more urgency from the family, the patient himself is more willing. But if I say the same thing to a woman, eight out of 10 won't make it. They'll say 'It's going to be okay, it's just gas,'" Dr Arora said.
Also, she says, families don't place the same importance on women's health. "At the family level too, spending money on a woman's health is looked down upon."
It should be noted that a 2016 article published in the journal Asian heart (which ceased publication in 2019) highlighted gender bias towards children in the health-seeking behavior of families in northern India.
The study involved pediatric patients referred for free cardiac treatment at a center under the school health program. Of the 519 children studied, only 37.6% were girls despite the nearly equal prevalence of congenital heart disease in children.
Regional divide?
When it comes to heart transplants and surgeries, the gender gap in southern India is less than in the northern part of the country, doctors say.
"There is definitely a south-north divide," said Dr Ravichand C Siddachari, head of transplants at KIMS Hospital in Hyderabad.
"In this part of the country, there are a lot of cases of sons or brothers coming forward to donate their kidneys, so I would say only 30-35% of my donors are women," he said. told ThePrint. "But it also needs to be understood that after the rules have been made stricter, only spouses or children are considered 'first degree' relatives, so if a woman comes forward, it's usually easier to d obtain authorization from the committee (which authorizes living donor transplants). "
In the case of liver transplant patients, Dr. Siddachari said that in his practice about 60-65% of recipients were male, but attributed this largely to alcohol consumption.
"You have to understand that alcohol consumption is much higher in men and still contributes significantly to our burden of liver disease," he said.
However, it seems that some of the attitudes that plague women in the North also exist elsewhere.
Dr. Praveen K Varma, head of cardiac surgery department at Amrita Institute of Medical Sciences and Research Center in Ernakulam, Kerala, said that only about 25% of his patients undergoing coronary bypass surgery are women.
"Generally in our practice we find that women, for a variety of reasons, including their 'family first' attitude, opt for surgery much later than men. But it is difficult for us to say whether women are deprived of surgeries because we only see the tip of the iceberg. We see people having surgeries," he said.
(Editing by Asavari Singh)
---
Read also : Women in India live longer than men but don't lead healthier lives, says new report
---