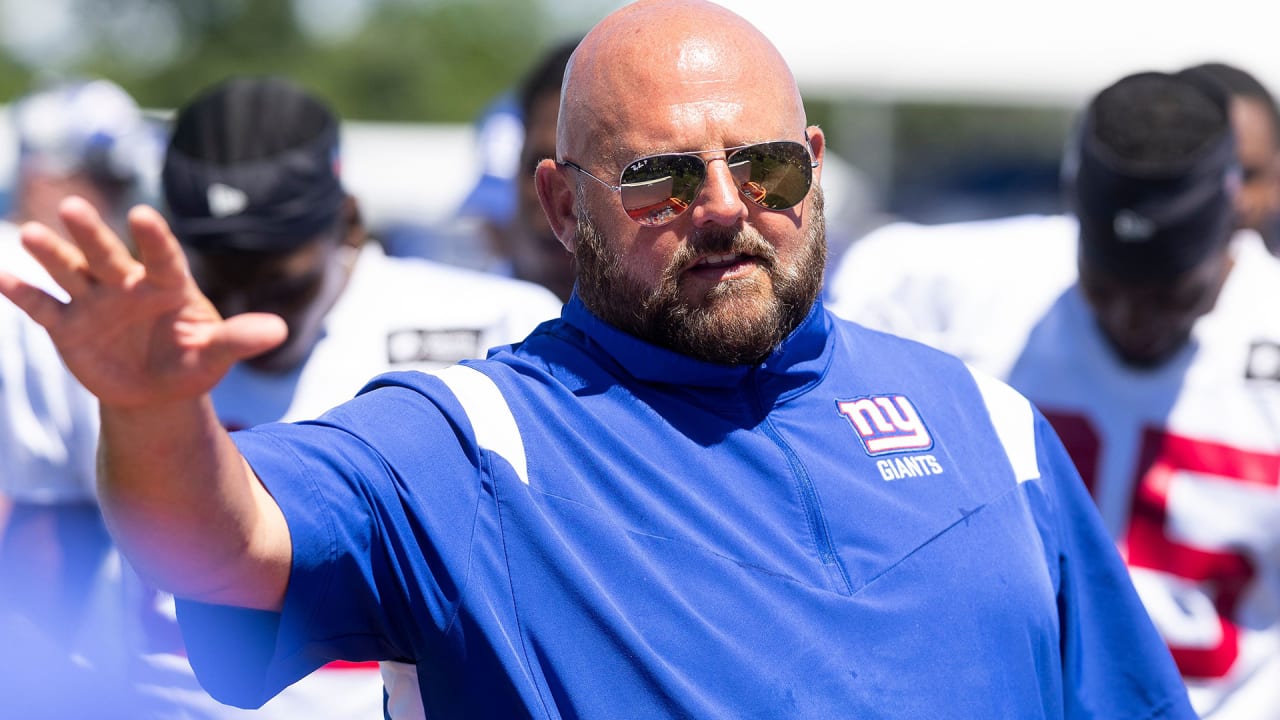 Cold Calls, Grandparents, and American Idol: The Brian Daboll Story
Daboll was a Buffalo Bills and Sabres fan. He practiced several sports but quickly focused on one.
"Football was my favourite," he said. "You play these sports – whether it's baseball, soccer, hockey – all your life until you're a teenager. Sometimes you burn out. So I tried a new sport and I'm happy with it. have done."
Daboll was a starting running back and cornerback in his final two seasons and was a senior captain at St. Francis High.
"My high school team was really good," he said. "We had a lot of guys from our high school playing college football – a huge amount from my team."
After graduating from St. Francis, Daboll set family precedent by attending Rochester.
"I was the first person to go to university after my grandparents, my mother and my aunt," he said. "No one was going to school. I was going to go to a local school near my home (Daeman University) and become a physical therapist. My grandma was pretty happy with that. I was close. You would win 40, 50, 60,000. That would be a great life. Then I went on a trip with one of my high school buddies just to see Rochester, and they were recruiting me. I had a great weekend, and I I said, 'It's a beautiful place.' Good school, hard academically and hard to fit in. I got into it and it was a good four years. I met a lot of good friends."
The Yellowjackets weren't as successful as his teams in St. Francis.
"We didn't win much," Daboll said. "I came from high school where we won every game scratching, fighting and scratching. So the wins that we had, we enjoyed them."
Daboll was a safety that started as a sophomore and junior. On September 9, 1995, he intercepted three passes in a 9-5 win over Case Western Reserve in Cleveland. The third pick came in the middle of the end zone in the dying seconds.
In the last game of his junior year, Daboll "bumped" his neck, forcing him out of uniform in his senior season. He started working with the coaching staff and the seed was planted for his long career.
"That's when I fell in love with being outside, being with the guys, doing whatever I could do in the office with the coaches," he said. "It was after two years of starting. And I enjoyed doing it. I enjoyed the camaraderie. I would say I'm very competitive. It kept me in the competitive spirit of things."
A year later, Daboll proved his commitment to coaching by working at William & Mary without collecting a paycheck.
"I lived in a small apartment," Daboll said. "I helped Russ Huesman. He was fantastic. A good man. I was treated the right way. Anything he needed I helped. I alternated every two weeks helping the coordinator from the movie. , defense, special teams. After the game, I would cut them off and trade them with the school we were playing at. I loved it because you're still part of the team. That's what it's about contributing to the team in a positive way to hopefully impact the team in a winning way.
"I also got a job to earn some money in the mornings at a place called Kingsmill. It was a country club. I was handing out towels."
After spending his first season in the basement of his profession, Daboll began to climb the coaching hierarchy. After that season, he sent letters to the head coach of each Division I school. He received "a ton" of standard responses but no offers. "I said, 'It's not working. '" Daboll said.
He tried another tactic, sending letters to all of the schools' offensive and defensive coordinators.
"I had nothing left because I had to pay the stamps and everything," he said. "Then I tried to figure out who was in charge of hiring graduate assistants. I took my top 20 schools and cold called them. I asked the secretary, 'Can I talk to such or such?' If they passed on the message to me, I left a message or spoke to them. They put me in touch with a guy from Michigan State by the name of Chris Cosh. He said, "Hey , if you don't send any more letters – because I have four of your letters on my desk – or call any more, I promise you that I will call you if there is an opening. So I interviewed Coach Saban and got this graduate assistant position."
Daboll worked with the defense for two seasons. He shared a room with three other graduate assistants, including Josh McDaniels and Mel Tucker, now head coaches of the Las Vegas Raiders and Michigan State, respectively. Future head coaches Mark Dantonio, Todd Grantham and Bobby Williams (father of Giants special teams quality control coach Nick Williams) were also on Saban's staff.
"I was able to work with a lot of good coaches," Daboll said. "I was a defensive graduate assistant. You didn't get much sleep between breaking down the boards, making the scouting reports, all the stuff you had to do. Freshman year, I was in the office most of the time and not in the field. The next year I was in the field, and that was the year Coach Saban left to go to LSU.
With a recommendation from Saban, Daboll got the opportunity to interview in New England with Belichick, who hired him as a defensive assistant. "There were a bunch of guys interviewing," Daboll said. "I was lucky to get this job. It didn't pay much more than being a graduate assistant, but it was a great job."