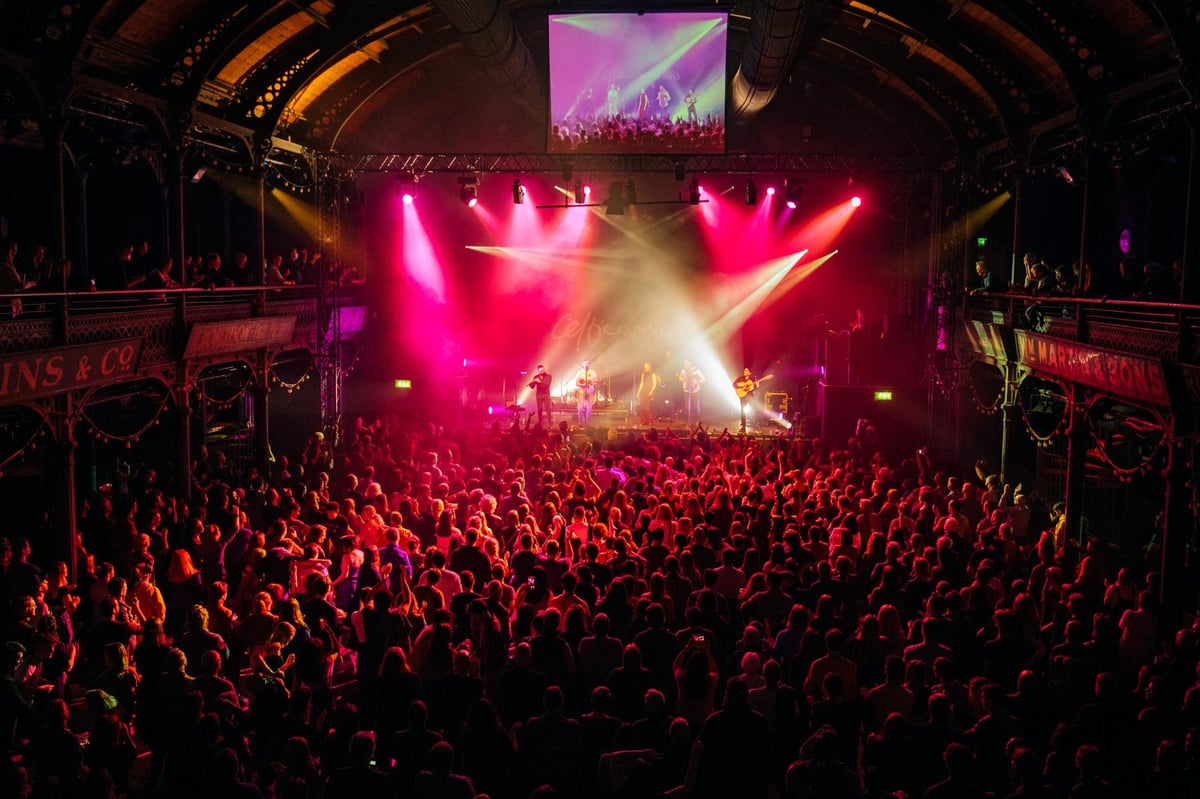 Celtic Connections music festival unveil lineup for 30th 'large scale' edition
Organizers revealed a host of international guests as well as the return of many of the festival's favorite artists to its stages since its launch in 1994.
Lucinda Williams, Beth Neilson Chapman, Anaïs Mitchell, Sammy Rae & The Friends and Nickel Creek are among the US stars of the lineup, which will also feature Tennessee singer-songwriter Sierra Hull and Nashville star Rachel Baiman .
Other international guests include Austrian percussionist and composer Manu Delago, French-Moroccan band Bab L'Bluz, Nordic band Dreamers' Circus, African duo Amadou and Mariam, Malian superstars Trio Da Kali and blues rock singer Haitian voodoo Moonlight Benjamin.
The Old Fruitmarket is one of the largest venues used for Glasgow's Celtic Connections music festival. Photo: Gaelle Beri
The festival is teaming up with the Festival Interceltique de Lorient, the French event that is said to have inspired the creation of Celtic Connections, to organize a celebration of "Celtic Nations", which will feature musicians and singers from Brittany, Galicia, Asturias . , Wales, Ireland and Scotland.
A Celtic Runes evening will bring together musicians from major Scottish and Scandinavian bands, while the festival will feature the Irish Chamber Orchestra for the first time.
The festival will open with a "Big Band" gala, featuring Hebridean rockers Peat & Diesel, pianist Fergus McCreadie and saxophonist Matt Carmichael, nominees for the Mercury Prize, and singer-songwriters Karine Polwart, Sierra Hull and Rachel Sermanni among the special guests.
Other guest artists will include Colin Hay, the Scottish-born frontman of Australian band Men at Work.
Glasgow's Royal Concert Hall has been home to Celtic Connections since the festival launched in 1994.
Canadian-American singer-songwriter Martha Wainwright, Hothouse Flowers frontman Liam Ó Maonlai and Capercaillie Gaelic singer Karen Matheson will appear in the festival's transatlantic shows, while Roddy Hart's annual Roaming Roots will feature Irish singer Lisa Hannigan, Del Amitri frontman Justin Currie and Admiral Fallow singers Louis Abbot and Sarah Hayes.
Celtic Connections will present its first major contemporary dance collaboration, Moving Cloud, a joint commission with Scottish Dance Theatre, which will feature a 14-piece folk ensemble made up of members of the bands Sian and Trip.
Notable anniversaries celebrated at Celtic Connections include fiddler John McCusker's 30 years in the industry, which will include special guests Eddi Reader, Julie Fowlis, Karine Polwart, Kris Drever and Roddy Woomble, 21 years of Colin MacIntyre's Mull Historical Society , and half a century from the Gaelic College of Skye, Sabhal Mòr Ostaig.
Next year Celtic Connections will also see a reunion of festival favorites Treacherous Orchestra, as well as headline shows from new songwriting collective Hen Hoose, Breabach, Peat & Diesel, Matthew And The Atlas, Kim Carnie and the fiddler Duncan Chisholm, who has performed at the event every year since the inaugural festival in 1994.
The 2021 festival was forced to take place entirely online due to the Covid pandemic, while the reintroduction of restrictions in the face of the Omicron variant at the end of last year saw many events postponed or cancelled, although 66 shows were able to take place.
Celtic Connections creative producer Donald Shaw said the festival had been planned on the basis that next year's event would be uninterrupted.
He added: "We don't really have the capacity or the resources to continually think about a plan B.
"It really will be a full live festival, which will be pretty close to the size of the event in 2020, the last time we had a big festival.
"We didn't really know where things were going last year, so we paid a little more attention to things like international artists, which we had very little of last year.
"We inherited quite a few shows that had to be pulled at the last minute last year."
Mr Shaw said he expected festival audiences to return in large numbers for the 2023 event, despite the impact of rising energy bills and inflation, which had forced Celtic Connections to raise ticket prices across the board.
He added: "We have to be passionate about what we do. Folk music is the music of the people and the music of the communities. I think they will rally and get out.
"As much as possible, we try to make our ticket prices a little lower than if people were going to see the same artist another time, because we always try to encourage the buyer of several tickets.
"We have to increase ticket prices, mainly because of external logistics costs. Ticket prices are never as good as people ready to play. I'd rather have 500 people at £10 than 200 people at £20. Whenever possible, we try to assess the market.
Scottish Culture Secretary Angus Robertson said: "Celtic Connections have been lighting up the dark days of January for 30 years and good to see them back after the challenges of the pandemic with such fantastic in-person programming to celebrate this special anniversary. .
"Over the years the festival has built a reputation for bringing world-class traditional music talent from Scotland and abroad to the stage and the Scottish Government is delighted to support it through our fund. EXPO."
Annette Christie, Chair of Glasgow Life, which manages many of the festival's main venues, including the Royal Concert Hall and the Old Fruitmarket, said: "The launch of an exciting new Celtic Connections program showcasing the musical heritage Scotland's exceptional performance through a variety of dynamic concert events is always a real highlight.
"Since the curtain first went up on Celtic Connections in 1994, it has grown over the years and has earned an outstanding and well-deserved reputation as Europe's premier traditional music festival, attracting thousands visitors to our city.
"The superb array of entertainment that next year's 30th edition will provide to delight local, national and international audiences will, I am sure, enhance and enrich the lives of all involved."