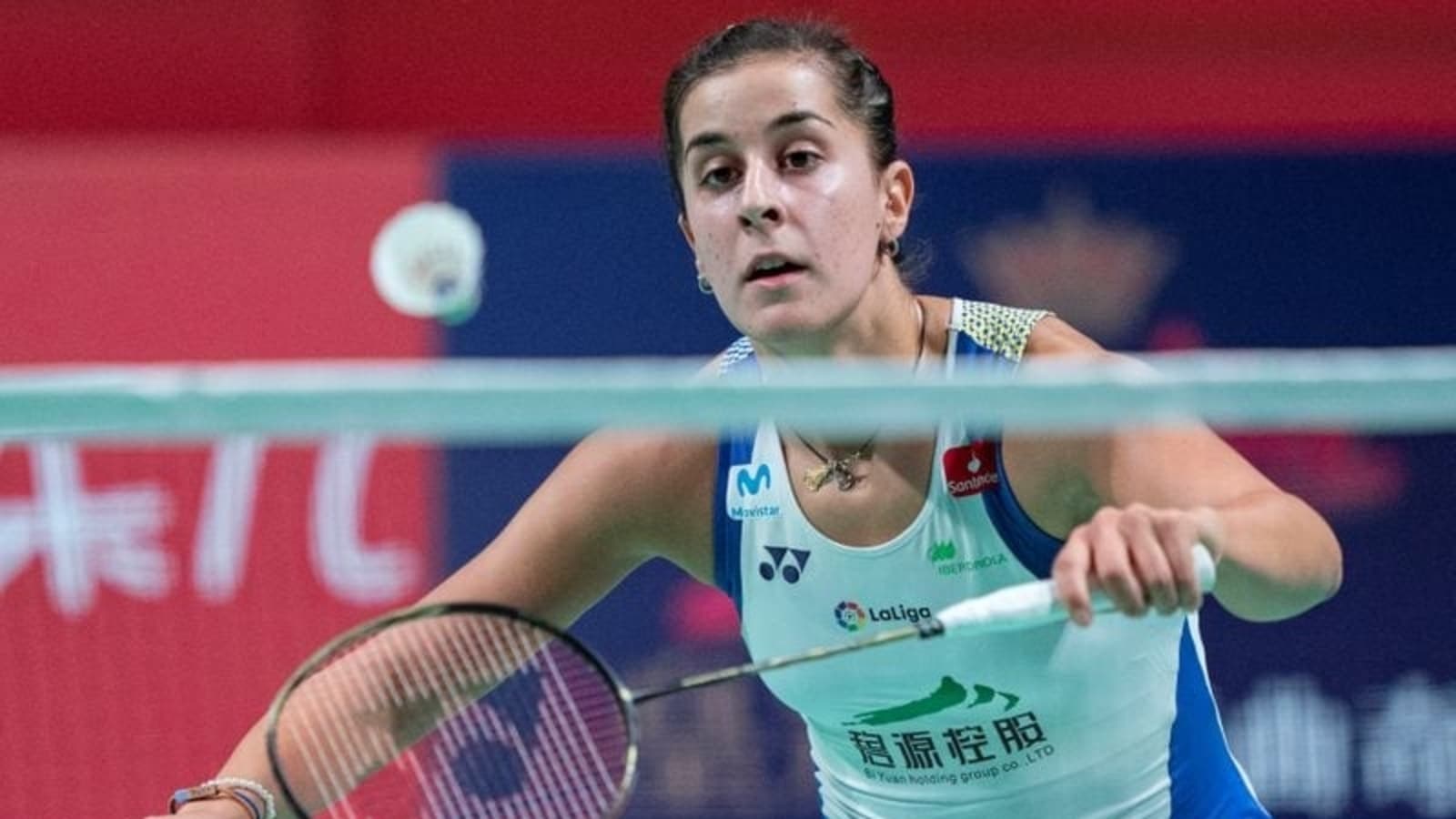 Carolina Marin shows the heart of a champion, wins European title on return
As Kirsty Gilmour's tap hit the net, Carolina Marin squealed in delight and collapsed on the court. All the pain, anguish and frustration of a year seemed to burst into tears. Dressed in a shirt with the slogan 'Vamos Carolina', Marin's mother, eyes watering, cheered from the packed stands at the Gallus Civic Center in Madrid as fans rose to celebrate Saturday's sixth European badminton title the girl at home.
The title aside, it was more heartening to see Marin, 28, a three-time world champion and Rio 2016 Olympics gold medallist, recover and make another strong comeback from injury. sliding, dashing and crashing all week long to let the badminton world know she's back.
Marin's every step was scrutinized as his sport eagerly awaited his return. The big question was whether she had the guts to take on another challenge after a career-threatening knee injury. This time it was his dominant left leg that went under the knife last June, preventing him from defending his Olympic title.
Prior to the Tokyo Olympics last year, she had improved her form by winning four titles, beating Taiwan's Tai Tzu Ying twice in the final. However, her world was shattered in May after she was injured in training, tearing the anterior cruciate ligament (ACL) and meniscus in her left knee. She had undergone surgery and only returned 18 months earlier after a ruptured ACL in her right knee.
Crutches in the courts
She had gone from crutches to the courts in eight months, returning in September 2019 to prepare for Tokyo. Although Covid pushed the Olympics back by a year, Marin felt fate was playing tricks on him.
"I felt hopeless, but I changed my mind after three days. I figured it happened for a reason. injury a few months before the Olympics. I thought that these Olympics would not be the ones for me, but there are only three years left before the next ones. Thinking like that has motivated me to recover, "said the Spaniard in Badminton Europe.
Tokyo didn't happen and she absolutely wanted to compete in the world championships in her home town of Huelva in December last year. After all, it was Marin who put Spain on the badminton map and brought such a big event to his country. She tried in vain to be ready, only to pull out a few days before the tournament and see Japan's Akane Yamaguchi win her first crown in her backyard. Marin had won his third world title in 2018.
When the European Championships were announced in February, Marin was ready for a fresh start. By no means would this be a smooth return. She had launched for her return against a quality peloton, with the 14th world, the Danish Mia Blichfeldt, and the 20th world Gilmour in the fray. She went through the grind, winning five matches and coming out on top in an hour-long match against world No. 33 Line Højmark Kjaersfeldt of Denmark.
The late response
The Dane led 9-5 in the deciding game, forcing Marin to chase the shuttle around the pitch and repeatedly put it in the net so she could rush. Marin was ready for the intense battle, feeding off the energy of the crowd. With four points in a row, she was on even footing, giving her signature battle cry each time. She quickly edged out Kjaersfeldt, leading 18-10. Against third seed Gilmour, Marin was anxious as the finish approached, glancing at her longtime coach Fernando Rivas, who was also driven by the pitch. The arena was buzzing with anticipation before Marin took his first tournament win on his return.
"My goal this week was just to come back and enjoy every game. I just wanted to think about getting on the court and the tactics I prepared with my coaches and my team; just wanted to enjoy. Winning or losing is a consequence of your performance on the field.
"I'm extremely happy, but it's not about winning the gold medal. Being able to come back to play my first tournament of the season is bigger. I needed to improve my game and play a few games to gain confidence. I could do it in this tournament. I will enjoy this great story with my team, my friends and my family right now. Monday we start again," Marin said.
At 28 and operated on both knees, Marin would live every day on the court with a prayer on her lips. She has a game that can demolish any opponent, but she knows she doesn't have many years at the top ahead of her. There will be tougher challenges in the coming weeks in the form of trickster Tai Tzu Ying, great retriever Akane Yamaguchi, mighty PV Sindhu, young sensation An Seyoung and Chinese Olympic champion Chen Yufei. But they would all be wary of the return of the "Marin fighter".