Breaking News – Grammy-winning music icon Missy Elliott to guest star on 'Craig of the Creek'

[07/23/22 – 10:44 AM]
Grammy-winning music icon Missy Elliott to guest star on 'Craig of the Creek'
More: Zack Snyder will do his "Teen Titans Go!" debut, while Anderson .Paak will return for the second season of "We Baby Bears."
---
[via press release from Warner Bros. Discovery]
Grammy-winning music icon Missy Elliott to guest star on 'Craig of the Creek'
Additional guest stars arrive in Cartoon Network series Teen Titans Go!, Craig of the Creek and We Baby Bears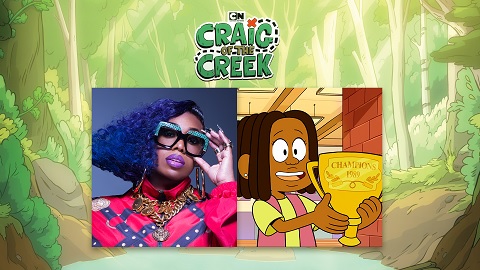 Cartoon Network announced today at San Diego Comic-Con that Grammy-winning hip-hop icon Missy Elliott will make her debut in the Emmy-nominated, GLAAD, and NAACP Image Award-nominated series Craig of the Creek. . The news was announced during the 'Cartoon Network: Winner Takes All' panel.
In the episode "The Jump Off", Craig challenges a group of Creek kids to a double dutch jump rope competition, even though he has no idea how to double dutch. Elliott plays Carla Frazier, the 1989 double Dutch champion and rival to Craig's mother, Nicole, who was the former double Dutch queen.
Other news from today's panel included acclaimed filmmaker Zack Snyder who will be making his Teen Titans Go! debut, guest starring on an upcoming episode of the hit Cartoon Network series. Snyder will appear as himself in the series' 365th episode titled "365!" premiere this fall. Influential rap trio De La Soul also returns to Teen Titans Go! for another appearance in the series' upcoming eighth season. The band previously appeared as themselves in a season six episode titled "Don't Press Play", which parodied their real-life battle for music rights.
Additionally, Grammy-winning singer Anderson .Paak will return for the second season of Cartoon Network's hit series, We Baby Bears, with his son, Soul Rasheed, as the band Triple T Tigers.
Willow Smith is also on board to join the adorable bears and reprise her role as Unica, magical unicorn and protector of the forest.
The Teen Titans Go! is produced by Warner Bros. Animation. Craig of the Creek and We Baby Bears are produced by Cartoon Network Studios.




[07/23/22 – 04:51 PM]
Video: Apple's Critically Acclaimed Workplace Comedy 'Mythic Quest' Announces Fall Season 3 Premiere, Previews at San Diego Comic-Con
In season three, as Ian and Poppy navigate the gaming world and their partnership at the new GrimPop studios, Dana is forced to mediate in her bosses' endless bickering.
[07/23/22 – 04:18 PM]
Video: Peacock Drops Trailer for Highly Anticipated New Disaster Series 'The End Is Nye' at San Diego Comic-Con
Each episode of the Peacock series explores an epic global catastrophe with gripping VFX shows, then demystifies them using science to show how we can survive, mitigate, and even prevent them.
[07/23/22 – 04:08 PM]
Video: First Look at FOX's Highly Anticipated New Animated Series "Krapopolis"
Announced today at San Diego Comic-Con, fans can catch a special preview of "Krapopolis" November 27 on FOX, ahead of its 2023 premiere.
[07/23/22 – 03:47 PM]
'The Orville' ventures into new territory on Disney+
At today's San Diego Comic-Con panel, Seth MacFarlane announced that all three seasons of fan-favorite, Emmy-nominated sci-fi series 'The Orville' will be available to stream on Disney+. August 10.
[07/23/22 – 03:37 PM]
Video: "The Sandman" – Official Trailer – Netflix
Dreaming dangerously. Enter the world of "The Sandman" August 5, only on Netflix.
[07/23/22 – 03:02 PM]
Video: All new "Family Guy" footage airing Sunday, September 25 on FOX!
The video was just revealed at San Diego Comic-Con 2022.
[07/23/22 – 02:47 PM]
AMC presents a panel at San Diego Comic-Con for the premiere of "Anne Rice's Interview with the Vampire" on Sunday, October 2
The first two episodes of the series available on AMC+ the same evening.
[07/23/22 – 01:53 PM]
Paramount+ Announces Major 'Star Trek' Crossover with Original Series 'Star Trek: Strange New Worlds' and 'Star Trek: Lower Decks'
In this special crossover episode, featuring both live action and animation, fans can expect to see Ensign Beckett Mariner, voiced by Tawny Newsome, and Ensign Brad Boimler, voiced by Jack Quaid, join the USS Enterprise.
[07/23/22 – 01:45 PM]
New episodes of Cable's Top Comedy Season 17, "American Dad!" Back to TBS on Monday, September 5
This season also includes a lineup of special guests including Terry Crews, Jared Harris, Laurie Metcalf, Jason Isaacs and Patti Harrison.
[07/23/22 – 01:35 PM]
Video: Paramount+ Debuts Official 'Star Trek: Lower Decks' Season 3 Trailer at San Diego Comic-Con
Brand new character portraits featuring the crew of Lower Decks – Mariner, Boimler, Tendi and Rutherford – also debuted during the panel.
[07/23/22 – 01:31 PM]
Video: Trailer for the third and final season of the worldwide hit Apple original series "See", starring Jason Momoa, unveiled at Comic-Con in San Diego
The eight-episode final season kicks off with the first episode Friday, August 26 on Apple TV+, followed by one new episode a week, every Friday.
[07/23/22 – 01:29 PM]
Video: "Batwheels" unveils its first teaser at San Diego Comic-Con
Also announced on today's panel, "Batwheels" will debut as a half-hour special on Batman Day, Saturday, September 17, first exclusively on Cartoonito on HBO Max, and premiering later on Cartoonito on Cartoon Network.
[07/23/22 – 01:01 PM]
Paramount+ Reveals First 'Star Trek: Picard' Season 3 Character Portraits
The third season will debut on Paramount+ in 2023.
[07/23/22 – 10:44 AM]
Grammy-winning music icon Missy Elliott to guest star on 'Craig of the Creek'
More: Zack Snyder will do his "Teen Titans Go!" debut, while Anderson .Paak will return for the second season of "We Baby Bears."
[07/23/22 – 10:01 AM]
Video: "Love in the Flesh" – Official Trailer – Hulu
The all-new dating show focuses on six real-life potential couples who have previously struck up relationships through dating apps and social media but have never met in the real world.