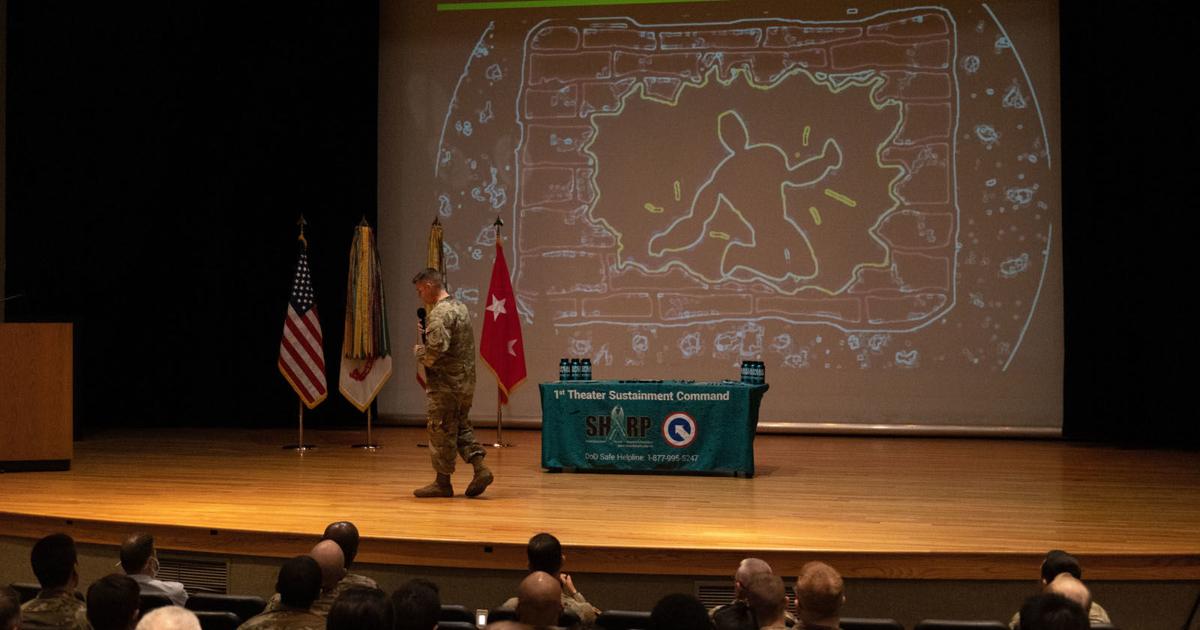 Army Chief Shares Sexual Assault Survival Story | Local News
In honor of Sexual Assault Awareness and Prevention Month, a US Army leader recently shared his story of survival with soldiers at Fort Knox.
sergeant. Maj. Aaron Stone told his story to the 1st Theater Sustainment Command at the Waybur Theater in Fort Knox.
Prior to introducing Stone, Maj. Gen. Michel M. Russell Sr., commanding general of 1st TSC, made opening remarks to impress upon the audience that sexual assault prevention should not be limited to a month, but some something the commands should work on every day.
"[Sexual assault], sexual harassment and anything related to this intrusion into your personal space, your body, your mind, your integrity, your soul is not a 31 day period. It's not," Russell said. "It's a lifetime because the impact lasts a lifetime."
During Stone's presentation, Russel said Stone coming to speak at the organization took enormous courage to be willing to share something that had such a profound effect on himself and others.
"Sergeant. Major Stone, on behalf of the first team, I want to personally thank you for speaking to us, for the message you are going to leave us," Russell said. "I admire your courage. I admire your ability to take something that happened to you and turn it into something that will benefit us all.
Russell also addressed the audience once again: "Be very careful, and take what you can of this, and this, and use it to make what you do better and more effective. At the end of the day, Sgt. Major Stone is going to make sure we know better, so we can do better so we can be better, and ultimately we have to do better.
Then Stone came on stage.
"I'm not a script. I don't memorize anything. I tell the story every time I speak from the heart. So maybe a minor detail or two is missing, but the main points are still there," Stone said.
The Goldsboro, North Carolina native went into detail about how he was a child of divorced parents. His grandparents fostered and raised him for a time, and his grandfather became his male role model until his death. His passing left a void in Stone's life. In 1991, at the age of 14, Stone met a middle school science teacher at the restaurant where he worked. This teacher became Stone's male role model and friend. On August 24, 1992, this man raped Stone.
"I know we like to use the word sexual assault in the military, of course sexual assault is a plethora of things right across the spectrum," Stone said. "But I like to use the word rape because it's a mean, dirty, filthy four-letter word."
In previous years, Stone would provide details of the attack, but he no longer does so because an audience doesn't need to know about it, he said. Instead, he focuses on the impact the event had on him and his life from that point on.
Stone talked about how her body froze, but her mind didn't. He could remember every detail. A few days after the attack, he says he received a letter of apology from this teacher. It didn't describe anything specific, but someone could tell that something inappropriate had happened between an adult and a minor, a teacher and a student. He threw it away and wanted nothing more to do with the man.
His mother found the letter and contacted him about it later that evening.
"Me being 15 and raised to keep my emotions to myself because that's not what a real man does, I denied he touched me," he said. "I said we just had a fight and that's why he's apologizing. She never spoke to me about it again. I thought she took it literally and left it at that.
After graduating from high school, Stone decided to enlist in the military instead of going to college, becoming a combat medic.
"I did my job very well…and even though that internal pain was there, I was able to keep my personal and professional life very separate for a very long time," he said.
To cope, Stone turned to cutting, mostly on his arms and thighs so no one could tell when he was in his fitness uniform.
Even as behavioral health research began to normalize, Stone continued to keep his pain and struggle to himself. He got married. He shared that his wife told him on their second date that she had been raped by one of his brother's friends, but he still couldn't mention his.
It wasn't until 2010, when he had a panic attack while driving, that he finally told his story.
"Something clicked in my mind in such a way that I had a nervous breakdown while I was driving," he said. "I had to stop on the side of the road. I'm shaking uncontrollably. I'm crying. I called my wife, I said, "I can't do this," and I told her my story for the very first time, and I needed help.
The very next day, Stone enrolled in an inpatient/outpatient program for behavioral health, and that same day he told his story for the first time to a group of strangers.
"It's cliché, but it's true," he said. "As soon as he came out, I felt like the weight of the world had been lifted off my shoulders. I felt like I could do this. I can take this step forward.
A few months later, Stone sought the statute of limitations for statutory rape in North Carolina.
"It turned out there wasn't, but all I had was my word of an event that happened 17 years before against this pillar of the community, but I'll give it a try" , did he declare.
Stone called the local police department and they asked him to come in and give his statement. He provided a written statement and even showed them where he lived. Stone didn't think anything would happen since he had no proof.
A week later, the teacher was arrested.
During the investigation, police spoke to the school's former superintendent, who said he had a file on the teacher. In this file was the letter received by Stone. His mother had brought the letter to the school board and Pate had been allowed to retire quietly.
"I had no idea this woman did this for me. She never spoke about it at all," Stone said. stop him."
The teacher eventually pleaded before trial and received a lesser sentence.
"But I know I did my part to make sure there was no one on the street who couldn't touch my wife, who couldn't assault my daughter, who wouldn't sexually assault any member of your family, and that's all we can do is one person at a time," he said.
Stone described additional reasons for sharing her story. He shares to encourage leaders to create an environment where soldiers can speak out. He shares so that men are portrayed as survivors.
"We've been talking about SHARP at the forefront for over a decade now, and every time I saw a brochure, every time I saw literature, it was always a woman's face. Where was the male representation? They are there because I spoke to them," he said. "But they're afraid to speak up because they don't want to be ostracized. They don't want to be despised. »
Stone continued to stress to audiences the importance of understanding our mental models and biases surrounding rape and sexual assault. He stressed that the paradigm must change to properly address the issue of sexual assault prevention not only in our training but in our society.
"Change takes time. Like the Titanic, it's going to take time to spin. We have to keep working on it," he said. "You're not going to see results right away, but if we keep working on it, we will."
He stressed the value of listening to others, having different perspectives and trying to understand our biases and where they come from in order to change them.
"That's what we're trying to change, those biases, those mental models, the paradigm shift to make sure our force is safe because we already have enough people who want to hurt us," he said. -he declares. "We don't need to worry about anyone behind, to our left and to our right hurting us."
Stone then gave his final reason for sharing his story, which is to try to avoid the loss of life. He spoke of a soldier he had when he was a battalion command sergeant major, Sgt. 1st Class Ramon Reyes. Reyes ultimately committed suicide because he could no longer take the pain of the sexual assault he suffered in his first unit, something he carried with him for over 20 years.
"Please, if you are hurting inside, if you want to ask for help, please do so," he urged. "Trust in a friend, confide in a fight buddy, seek professional help. Take away that stigma of seeing behavioral health, they've got you covered. I am living proof. I've been consulting behavioral health for over a decade and I'm still in uniform. It hasn't affected my career in any way. »
Russell returned to the stage and presented Stone with a token of appreciation and a Commander's Coin for sharing his story.
To end the event, the general was joined on stage by additional soldiers to sign the SAAPM proclamation.
"I wanted it to be meaningful, really meaningful, not just something we do every month," Russell said. "It has to be something that we do on a regular basis because what we do routinely doesn't become alien anymore and we don't fear it anymore and build trust in the process, and I want to build trust in that process."