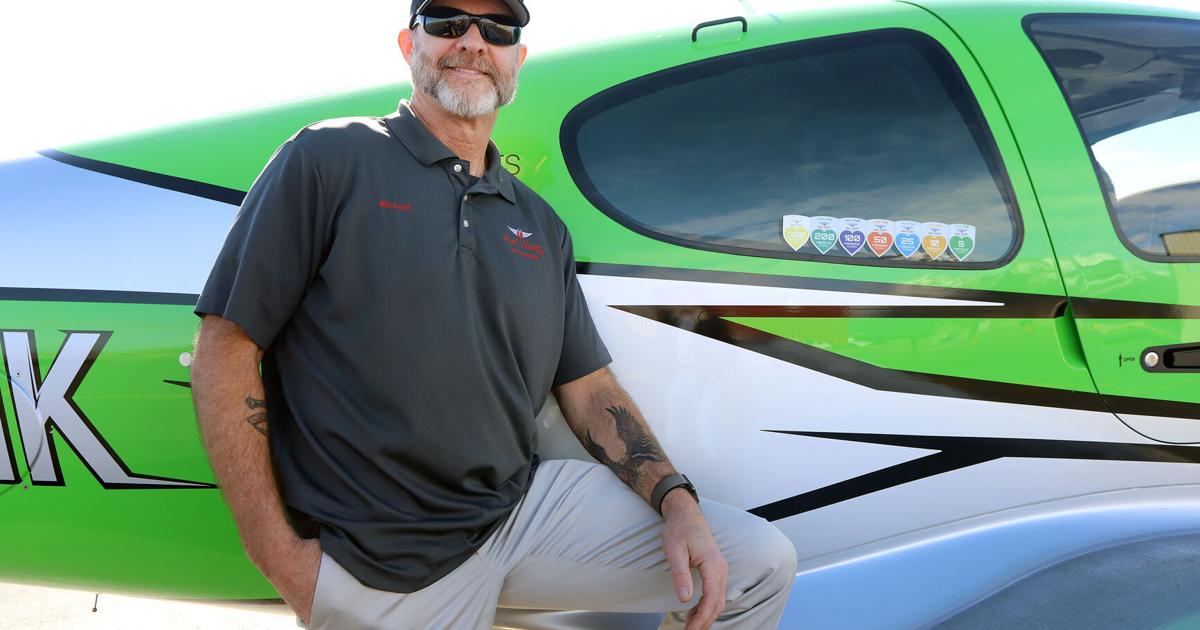 'Angels Do Fly West': Documentary tells the story of a pilot helping families in need | Local News
After surviving a horrific plane crash at Stevensville Airport in 2017, no one would have thought less if Michael Burks had decided to never fly another plane in his life.
But having him back on board has turned into a boon for dozens of families facing some of the toughest times in their lives.
A month after the crash, Burks flew his first mission for Angel Flight West.
The program connects volunteer pilots with people who need to travel long distances for medical appointments at no cost to the passenger. Burks just eclipsed his milestone of 300 missions. In the past two years, it has given away free flights 182 times.
Burks hopes other pilots will join him to help people in times of need.
"Obviously the passengers and the patients are so kind to what you do," Burks said in an interview at the Hamilton airport where he learned to fly. "In return, you find yourself saying thank you for showing you how amazing life is and how strong you are. It's contagious. You understand that 'you have to fight for everything' in the two hours that you go through the air with them."
"You sit next to a mother of a sick child telling you her story and you realize how blessed your life has been," he said. "You don't know until you speak with a mother who is fighting for her child's life and what she had to give up… So that I can alleviate a small aspect of this horrible journey; you just need to tell me where to be.
The Montana Wing Leader of Angel Flight West was recently selected as one of three volunteer pilots to receive the 8th annual AFW Endeavor Award which recognizes pilots who go above and beyond to serve their communities through donated flights. In 2021, he was shortlisted by the National Aeronautics Association for its Public Benefit Flying Award for Distinguished Volunteer Pilot of 2021.
Burks is a well-known Missoula businessman who helped found the Missoula Maulers in 2005, ran a Christian bookstore for 13 years, and now owns Fuel Fitness gyms in Montana and Idaho.
Burks spent three years working with local filmmaker, Joe McNeal, to produce a 12-minute documentary that he hopes will encourage other pilots across the country and the world to volunteer to help.
The documentary, "Angels Do Fly West," focuses on Burks' relationship with Mya Toone and her mother, Carly Brown. Burks flew the family to Seattle nearly 20 times for medical appointments for Toone.
In the video, Brown said her daughter had undergone at least 20 surgeries to address a myriad of medical issues. Long car trips are taxing for her, but for some reason Toone falls asleep shortly after takeoff on Burks' plane.
"Mya is in so much pain and uncomfortable in a car," Brown said. "It means a lot to me to be able to see her relax for a second and not be uncomfortable and be able to go home faster. It's huge. She's already going through so much.
"I just don't think people understand the depth of what families go through and what children go through and the toll it takes on families," she said. "I think if people could step back and see what a flight could do and how it benefits and helps, I think a lot more people would."
Burks hopes other drivers will give it a shot.
"You have no idea how amazing it is to bless someone, a child, a parent or anyone involved in this program by doing something you love," Burks said. "Do one mission a month. Spend two or three hours a month. Flying a patient of any age is the most rewarding thing you can do. If every pilot in this country made 12 flights a year, there wouldn't be a single person left behind. No one would ever have to drive.
McNeal is not a pilot, but he has seen the difference this program can make for everyone it touches.
When he started working on the documentary, he asked for help from other professionals. Once they heard about the program, they all offered their services for free.
McNeal attended an Angel Flight West retreat in California with Burks. His crew interviewed about 20 pilots involved in the program.
"They were people from all walks of life," McNeal said. "Everyone was there for a reason and only one reason. They wanted to help people. And they were all there to encourage each other to keep doing it.
Burks said retiring in 2019 was an experience he won't soon forget.
"Things in the world were getting a little rough at that point with people screaming and screaming one after another," Burks said. "When we entered this retreat, there were about 200 people. All the hate, loathing and division was gone. You enter this room where everyone claps their hands.
"All you want is to be able to bring that outside," he said. "You want to try to bring that sense of unity with people who all want the same thing. People can understand that there is a way in this crazy world for people to be happy. It comes from being help others.
To see the documentary, go to go.ravallirepublic.com/AngelsFlyWest
Learn more about Angels Flight West at https://www.angelflightwest.org/